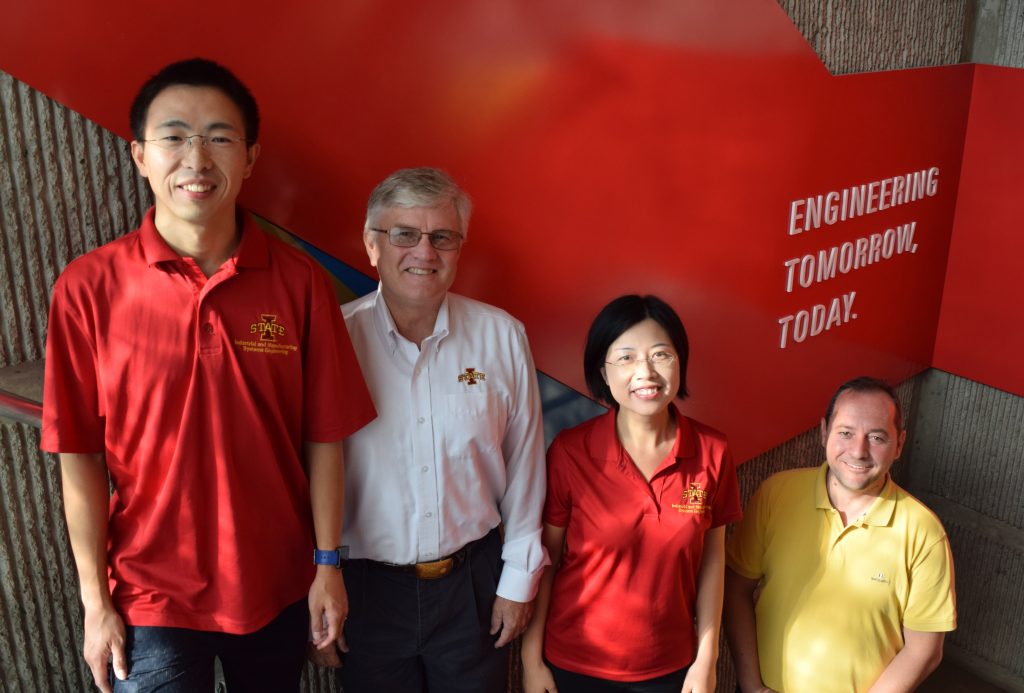 A team of industrial engineering and agronomy researchers have been awarded a $2 million grant by the National Science Foundation to study ways that Operations Research and Analytics techniques can be applied to improve plant breeding.
Lizhi Wang, an associate professor of industrial and manufacturing systems engineering (IMSE), is the project's Principal Investigator (PI). He is accompanied by co-PIs Guiping Hu, associate professor of IMSE; William Beavis, professor of agronomy; and Sotirios Archontoulis, assistant professor of agronomy. The project team also includes three industry members: Jack Kloeber from Kromite, Greg Doonan from Syngenta and Carlos Messina from Corteva. The $2 million grant was awarded by NSF's Division of Civil, Mechanical and Manufacturing Innovation (CMMI).
"This project is about making plant breeding more efficient using industrial and systems engineering methods," said Wang. "What we are going to do in this project is to modernize the decision-making process in plant breeding using advanced optimization and machine learning techniques. We are hoping that these techniques will help plant breeders do their job more efficiently."
Wang added that he and his team were "extremely honored and proud" to receive the award, because it is "an exciting opportunity to create potentially disruptive techniques to address important agricultural challenges by combining elements of operations research and analytics with agronomy." Wang and Hu will focus on mathematical modeling, optimization and machine learning techniques while Beavis and Archontoulis will lend their expertise in crop modeling, quantitative genetics, and plant breeding.
"We have a long history of collaboration at the intersection of engineering and plant sciences. Together we are able to address complex problems that do not fall within the boundary of any single disciplinary but require expertise from multiple disciplines," Wang said.
The project aims to address growing challenges agriculture faces in the 21st century.
"On the one hand, the world population is growing and people's average living standard is improving, so the agriculture production must increase continuously to meet the demand," said Wang. "On the other hand, we have seen weather related events more frequently such as flood and drought, so it is becoming harder and harder for crops to adapt to the changing environments."
The research aims to provide plant breeders with more powerful and efficient tools so that they will be able to produce new seeds that are higher quality, more robust to the changing environments and also more cost effective.
Wang, Hu and Archontoulis are all faculty scholars at Iowa State's Plant Sciences Institute (PSI) and they are grateful to PSI's director Pat Schnable for bringing researchers together from different backgrounds. The team also recognized Gül Kremer, Professor and C.G. "Turk" & Joyce A. Therkildsen Department Chair of Industrial and Manufacturing Systems Engineering and Kendall Lamkey, Professor and Chair of the Department of Agronomy, for their long time support of this interdisciplinary collaboration.
"Complex problem settings provide new challenges and thus motivation for researchers to engineer new approaches to solve them. Massive number of variables and inherent uncertainty in plant breeding provide just that. This project reflects also awareness of our responsibilities as Iowa State scientists and engineers, and collaborative work culture that targets global challenges," Kremer said.
Work on this project began earlier this month and funding will continue through August of 2023.