A new research opportunity for incoming Iowa State engineering students allows them to experience the life of a Cyclone Engineer before their first semester on campus even begins.
APEXE, or the Academic Program for EXcellence for Engineers, is "designed to increase the success rate of incoming multicultural, first-year engineering students." APEXE is a component of the university-wide Academic Program for EXcellence (APEX) and is a collaboration between the College of Engineering and the Office of Multicultural Student Affairs.
APEXE  launched in the College of Engineering in 2013, and this summer it expanded to include a new hands-on research experience in real-world applications of engineering.
One particular research effort saw two students, Yahan Chang and Andres Garro, joining the research team of Peng Wei, an assistant professor of aerospace engineering. The research explored designing and building UAVs as part of Wei's research in developing algorithms for autonomous flight.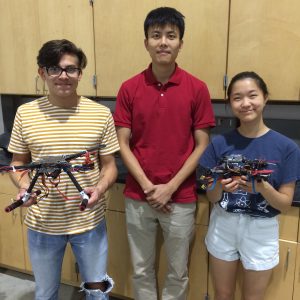 APEXE scholars worked for 15 hours a week in the lab, developing critical skills that will help them excel in their engineering studies. In addition, scholars took Iowa State summer courses, participated in departmental hands-on workshops, visited industry and engaged with engineering alumni, and gained access to various university resources to aid in their retention and success as incoming students.
"This real research experience gave me a real head start for learning some concepts that I wouldn't usually learn until later aero classes," said Chang. "I was able to see how complex and exciting this work can be."
"I learned a lot about how research takes a whole team and got experience with how to interact with research mentors and teammates," said Garro. "Getting a chance to do research really showed me how engineering concepts are applied in a lab."
"The growth of APEXE to include a research experience is a unique new way to give scholars a peek at the experiences they will have here in the College of Engineering. From networking with faculty members to meeting fellow students to contributing to innovative research projects, the APEXE research experience is a great addition to an already outstanding APEX program," said LeQuetia Ancar, assistant director of engineering student services and coordinator of APEXE.
Participants in this year's APEXE program are:
Joyce Lai
Yahan Chang
Andres Garro
Kundan Paudyal
Xavier Robles
Jesse Gallegos
Yusuf Shehata
Liam Herbst
Makayda Johnson
Hari Biswa
Karen Devora-Cigarroa
Nithin Sebastian
Zahydee Machado
Jayson Sayasone
Rick Jensen
Adaora Nwizu
Maria Cruz-Escobar
Nairah Saldana
Research mentors are
Josh Peschel, agricultural and biosystems engineering
Peng Wei and Mohammed Anwar Manjanoor, aerospace engineering
Ashraf Bastawros, aerospace engineering
Surya Mallapragada and Metin Uz, chemical and biological engineering
Eric Cochran, chemical and biological engineering
Derrick Rollins and Dillon Hurd, chemical and biological engineering
Chris Rehmann and Lauran Schwab, civil, construction and environmental engineering
Say Kee Ong, Kaoru Ikuma and Rayla Vilar,civil, construction and environmental engineering
Wei Le, electrical and computer engineering, and Danilo Perez, computer science
Akhilesh Tyagi, Yunxi Guo and Ananda Shaikh-Mohammed, electrical and computer engineering
Lotfi Ben-Othmane, electrical and computer engineering
Joe Zambreno, electrical and computer engineering
Pranav Shrotriya and Agnivo Gosai, mechanical engineering
Ralph Napolitano, materials science and engineering
Kaitlin Bratlie, materials science and engineering and chemical and biological engineering, and Anuraag Boddupalli, chemical and biological engineering