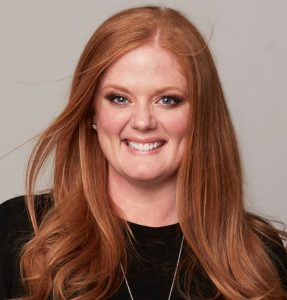 An industrial engineering alumna has taken the skills she learned at Iowa State and is now applying them to the fashion industry in the Big Apple.
Casey Waechter (BSIE'05) grew up in Cedar Rapids, Iowa and looked at schools in both Iowa and Chicago when it came time for college. Ultimately she picked the Ames-based university.
"I came to Iowa State for many reasons," said Waechter. "It's a great school with a wonderful engineering program, but another big part of what sold me on Iowa State was that when I visited, I fell in love with the campus and really felt at home with the people I met."
She came in undecided on a major, but knowing she wanted to go into some field of engineering. By the fall semester of her sophomore year she decided that industrial engineering (IE) was a good fit.
"Industrial engineering has a great balance of technical education and easily transferable real world skills," she said.
Part of the reason she selected IE was because of the department's strong and devoted faculty, specifically Frank Peters, C. G. "Turk" and Joyce A. Therkildsen Professor in Industrial and Manufacturing System Engineering, and Leslie Potter, senior lecturer.
"I remember Dr. Peters' passion for process improvement and efficiency. He gave examples of ways to implement things around the house. In an effort to simplify my morning routine, I still keep my sugar in a shaker on the counter versus a bowl in the cabinet," Waechter said.
"Leslie Potter served as an important role model for me as I started my transition from school to full-time employment," said Waechter. "During her capstone class, she treated us and expected us to behave like professionals."
After graduating with her BS in IE in 2005 she was hired as a manufacturing engineer at Procter & Gamble (P&G) in Iowa City. She began taking night classes through the University of Iowa's master of business administration (MBA) program in 2006, which in some ways built upon Iowa State's IE curriculum.
"The Iowa State IE program prepared me with knowledge and a set of problem solving skills to apply.  Comprehensive problem solving has been important in every role I've had throughout my career," she said.
She relocated to P&G's Baltimore office in 2008 and worked there until 2016 when P&G's beauty brands merged with Coty, "a global beauty company making cosmetic, skin, fragrance & hair brands." At this time, she moved to New York to serve as Initiative Leader of Covergirl for Coty with an office in the Empire State Building. Then in June she was promoted to Director of Global Sally Hansen Initiatives for Coty. In this role she works with a cross functional team – including marketing, finance, research and development (R&D), packaging, and manufacturers and suppliers – to develop and bring to market innovation for the Sally Hansen brand.
"Our innovation and range is wide – nail color, treatment and skin – so we get to create new shades, stories or ingredients on trusted franchises and deliver major beauty breakthroughs," said Waechter. "The beauty industry is fast paced and fun. Capturing the hearts of beauty consumers requires new products that deliver on a promise and are in touch with needs and trends of the markets we serve.
Outside of work, Waechter enjoys all the fine arts the city has to offer, particularly theater, music and dance. She also likes traveling and considers Cuba and Italy two of her favorite places she's visited. She keeps the Cyclones close to her heart by following the football and basketball teams and is also an avid fan of the Baltimore Orioles because of her time living in the Charm City.
Even though Waechter is now more than 1,000 miles away from her alma mater, many of her college memories remain with her.
"One of my fondest memories from my time at Iowa State was my junior year when I served as the co-chair for the Engineer's Ball during E-Week.  We had such a great time planning, executing and participating in the event. It's a great memory I'll carry with me," she said.
Waechter has reflected on her time since roaming the halls of Iowa State and offers two bits of advice for young people today. Her first is for incoming college students who might have an interest in engineering but aren't sure what exactly they want to study.
"Work hard and pay attention in class, find people who you work well with and who will push you to be your best," she said. "Additionally, join student groups that interest you outside of class.  I learned great lessons both inside and outside of the classroom in a variety of student groups."
Her second piece of advice is for recent IE graduates or those who will be graduating in the near future.
"Learn the industry, listen to your colleagues, ask lots of questions, follow the data and don't shy away from big projects."