On May 24, 2018, a research team led by Iowa State University faculty members Yong Guan and Neil Gong was granted a Best Paper Award from the IEEE Systematic Approaches to Digital Forensics Engineering (SADFE) international workshop, held in conjunction with the 39th IEEE Symposium on Security and Privacy. Their paper is called "A Dynamic Taint Analysis Tool for Android App Forensics."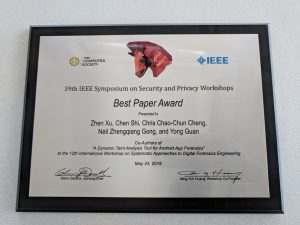 Guan, a professor in the Department of Electrical and Computer Engineering (ECpE) at Iowa State, and Gong, an assistant professor in ECpE at ISU, worked on the project with a group of students, looking at mobile apps and smartphones.
"The purpose of this project is to help analyze mobile apps from a forensic perspective," Guan said.
The process of analyzation consists of examining the contents of an app and reducing the complexity of forensic investigations completed by app practitioners. By developing a mobile app analysis tool, the team can build a database of mobile apps. There are over 1.4 million apps to be analyzed, so this project is necessary to hopefully decrease the amount of  time that it takes to examine the apps through reducing the complexity of cybercrime investigation.
With the NIST-CSAFE supports and roughly seven researchers helping Guan and Gong to complete the project, the research is in depth and dynamic. The objective is to improve the process and speed of apps, shortening the amount of time it takes digital forensic practitioners to investigate in civil and criminal cases.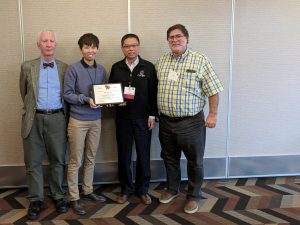 According to Guan, the study is being executed on Androids specifically and not yet on iPhones.
"More than 90 percent of people are using smartphones now," Guan said. "More and more of those people are using Android phones."
In a couple of years, Guan said that they might begin to work on iPhones, but for now, Androids are the main focus.
"We want to shorten the amount of time it takes to investigate and improve the process of analyzation to have better guarantees to not miss any crucial evidence," Guan said.
In the future, Guan and Gong plan on furthering the research by expanding to other smartphones. They also plan to quicken the time it takes to analyze even more than they already have.