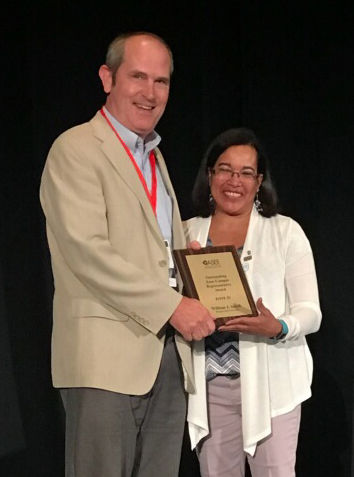 An industrial and manufacturing systems engineering (IMSE) faculty member has been recognized for his three-decade commitment to teaching.
John Jackman, an associate professor in IMSE, received the John L. Imhoff Global Excellence Award for Industrial Engineering Education at the 2018 annual conference for the American Society of Engineering Education (ASEE) earlier this week. Gül Kremer, C.G. "Turk" & Joyce A. Therkildsen Department Chair and professor of IMSE, nominated Jackman for the award and was at the conference in Salt Lake City for the presentation ceremony.
"John Jackman not only reflects the values of the IMSE department and our commitment to our students, but he has a global, forward-thinking approach that both attracts students to Iowa State and has been tremendously effective at preparing them as they enter various fields of engineering upon graduation," Kremer said
Jackman joined the IMSE faculty at Iowa State in 1987. He holds a PhD in industrial engineering from Penn State University and has professional experience in the aerospace, pharmaceutical, and simulation software industries. His research at Iowa State focuses on inspection technologies and manufacturing systems. During his three decades of teaching, Jackman has advised more than 30 graduate students and has taught undergraduate courses in manufacturing systems engineering, stochastic modeling, and simulation as well as graduate courses in enterprise modeling and integration and requirements engineering.
"It was a great honor and quite humbling to be selected for this award," said Jackman. "While this award recognizes my achievements, I would not have been as successful without the help of the many colleagues I have worked with at ISU. It has also been rewarding to see students achieve their potential by engaging them in real world engineering problems. Opportunities for international collaborations in education have provided me with a unique perspective on global education and how our students need to be prepared to compete in the global economy."
Jackman's full award nomination reads as follows:
"John Jackman has built successful international collaborations for study abroad programs, exemplified globally aware engineering practice, enhanced global awareness of our students as it applies to industrial engineering education, and has a sustained record of manufacturing curriculum design and revision. Through these actions, he contributed immensely to the establishment of a departmental culture that welcomes international exchange activities not only to showcase the preparation of our students but also to provide learning opportunities for them. His dedication to industrial and manufacturing engineering education is evident in his excellent record of National Science Foundation-sponsored engineering program development and research."