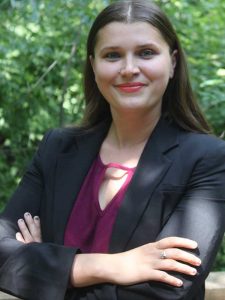 Original article by Paula Van Brocklin, Office of the Vice President for Research
Two interdisciplinary research teams have been selected to receive funding from Iowa State University's inaugural Bridging the Divide internal funding opportunity, an experimental seed program to holistically address complex societal challenges through new collaborations among university researchers in design, art and humanities, social science and STEM (science, technology, engineering and mathematics) disciplines.
The team of Cristina Poleacovschi, assistant professor in civil, construction and environmental engineering; Nell Gabiam, associate professor in world languages and cultures and political science; and Carl Weems, professor and chair of human development and family studies, was selected for their proposal, "Responding to Humanitarian Crises: Human-centered Built Environment and Resilient Refugee Communities." Their research introduces the concept of human-centered refugee camps – the built environments which consider the human perspective throughout the design process. Specifically, the team will address the needs, rights and perspectives of vulnerable communities, answering the question, "How does the built environment of the refugee camp affect community resilience?" in the context of European refugee crisis.
Read the full article, "Bridging the Divide grant will fund projects impacting people and places," to explore the breadth and creativity of these new projects.