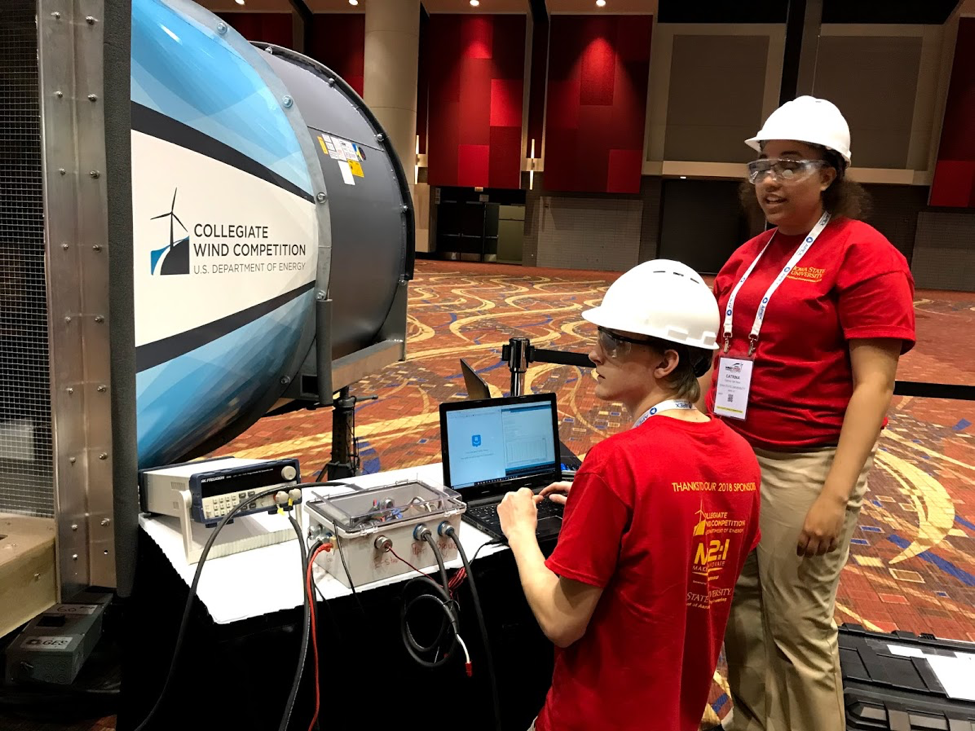 Iowa State University engineering students got hands-on experience in wind turbine design, construction and siting when they competed in the U.S. Department of Energy's 2018 Collegiate Wind Competition.
The team, dubbed "CyWind," was one of 12 other teams from around the U.S. and Puerto Rico selected to participate. The competition was held in Chicago from May 8 – 10. Throughout the week, teams had time to showcase and test their turbine projects for a panel of judges.
The competition saw each team design, build and test a wind turbine. Teams were also expected to conduct market research for the turbine and develop a business plan for them as well.
One of the unique aspects of the competition was the siting challenge. Each team, in addition to developing a wind turbine, had to choose hypothetical site locations for their wind farm. The competition was judged by a panel of wind industry leaders.
The team that attended the competition began as a Make To Innovate (M:2:I) project during the fall 2017 and spring 2018 semesters.
CyWind's team members includes students from five departments: mechanical engineering; aerospace engineering; civil, construction and environmental engineering; electrical and computer engineering; and materials science and engineering, as well as Iowa State's Ivy College of Business. The team is split into five different sub teams, each one taking on a specific role. Those teams were siting, blades, structure, electrical and business.
The turbine that CyWind built was designed to be "portable, relatively cheap, easy to assemble and easy to store." It has an approximate height of four to six meters, and operates on a three blade horizontal axis system.
The team said that their strengths lie in Iowa State's unique expertise in wind energy, and that having access to the technology on campus was an advantage. The engineering team members aimed to gain valuable manufacturing process experience that could help them later in life at future internships and jobs alike. The business students wanted to gain experience with working on team projects, as well as communication skills and promotion of a new product on the market.
Prior to the competition in Chicago, team CyWind participated in numerous social and outreach events to help spread the word about what they were doing. They engaged with fellow students during the sustainability day on campus at Iowa State, along with doing multiple activities and events with elementary aged children.
During the "Girls Science Exploration Camp" event, CyWind put on activities for the Science Explorations Club and Women in Science and Engineering (WiSE). These groups aim to generate girls' interest in STEM fields.