Suzanne Leonard, a PhD student in the Department of Agricultural and Biosystems Engineering, recently wrapped up her experience as a 2017-2018 Trinect Fellow. This fellowship is funded by the National Science Foundation STEM-C Partnership: MSP program and provides support to graduate students in engineering.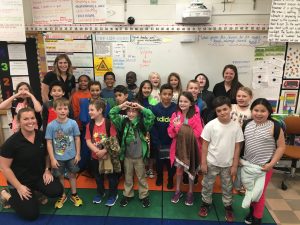 As a fellow, Leonard worked in elementary schools alongside elementary teachers and Iowa State University student teachers to educate youth in science and mathematics. She worked in the Des Moines school district in the Jefferson Elementary 5th grade and Wright Elementary 3rd grade and acted as the "resident engineer" while collaboratively planning and developing STEM related activities in the classroom.
To help students gain a strong understanding of science concepts, the team of instructors – Leonard, the Iowa State student teacher, and the elementary teacher- designed hands-on exploration activities. In each teaching unit, they designed an engineering challenge for students to apply critical thinking skills, develop creativity, and practice what they learned.
"For example, we did several experiments with magnets to explore their properties to meet the magnetism standard. The kids then used that knowledge to design and build a maglev train model using Legos® and magnets. We incorporated engineering and technology into other subjects as well. When learning about US geography in social studies, students used legends and land features to create a road trip map for their robots to follow," said Leonard.
Leonard has a passion for science, engineering and outreach. She noted how impressed she was with the students when they incorporated challenging projects. It was exciting for her to see the content connections and logical reasoning of the students.
Leonard said, "It was astounding to see how excited they were for our engineering projects and the creative solutions they developed."
The Trinect Fellowship was a positive experience for Leonard. The skillset that she improved the most through this program was communication.
"Teaching intense science concepts to eight year-olds can be challenging, and it is important that you use audience appropriate body language, tone and vocabulary. Good communication with my cooperating teachers and student teachers was key to ensuring the lessons were planned properly and were carried out smoothly. I've learned a great deal about classroom management, engagement and assessment techniques. Through Trinect, I've gained different strategies for developing lesson plans for short concepts and entire semesters.  As I plan to go into extension or teaching, I will certainly implement all those skills throughout my future career," said Leonard.
Leonard's hometown is Dugspur, Virginia, and she is working under the mentorship of Drs. Hongwei Xin and Brett Ramirez. Her research is focused on animal production systems, specifically housing design for sows.
About the Trinect Project and Fellowship
The Trinect project addresses the critical need for well-prepared elementary teachers to have confidence in and a commitment to engaging their students in experiential learning of essential scientific and engineering concepts in the early grades.
The Trinect project is a partnership between Des Moines Public Schools, the largest school district in the State of Iowa, and Iowa State University with the School of Education, the College of Engineering and the Engineering and Research Center for Biorenewable Chemicals (CBiRC) working in collaboration.
Information from: https://www.trinect.iastate.edu/about-the-program/