Graduate transportation engineering student finds caring community 2,000 miles from home
Willine Richardson rates Iowa State friendliness as "top-notch."
"It reminds me of home a lot, because of the hospitality …," she says. "You can meet anyone, from any part of the world, to be honest. I've met so many people from different places."
Richardson is from Anguilla, a British overseas territory in the Leeward Island chain of the Eastern Caribbean. She completed her undergraduate degree at Morgan State University. When she starting looking for master's programs, the civil engineering projects and faculty at Iowa State grabbed her attention.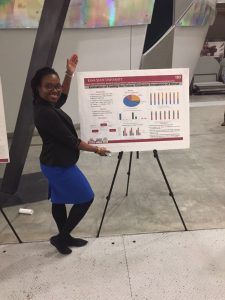 "Iowa [State] was the only school where I was able to see projects, like a more inside look at what they were actually working on," she remembers. "I saw that it wasn't just a project that a student was working on, but a project for a client like the DOT or something with outward connections."
While at Iowa State, she has competed research on projects involving work zone safety, driver behavior and biofuel at the Institute for Transportation. She has been active in Tau Beta Pi and setting up the Morgan State Chapter of Chi Epsilon. She's also squeezed some time in for a favorite Iowa pastime.
"I realize people are really into their football here … here, the whole community is there," she says with a smile. "That was a really cool experience, going to my first tailgate or my first game because it's very huge, full of energy, full of life, young and old are there."
"I recommend anybody who comes to Iowa, make sure to be here during an Iowa State game," she says.
---
Note: In May-July 2018, Iowa State University College of Engineering Communications is setting out to find the top reasons why graduate students choose to pursue their educations at ISU CCEE. "Engineer at ISU CCEE" is a video/written series featuring graduate students from ISU CCEE. Each student shares his or her unique reason for choosing Iowa State. Find out about the student experience at ISU CCEE by following us on Facebook, Twitter, and LinkedIn (Iowa State University Civil, Construction and Environmental Engineering and ISUConE).