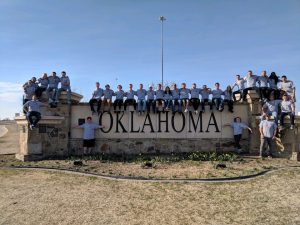 Construction engineering students spend five days repairing flood-damaged homes
Five days on a beach isn't Parker Lloyd's idea of spring break. For the past two years, his vacation has included hard-core volunteer opportunities across the nation with Iowa State University's Associated General Contractors student chapter (ISU AGC).
"When you go on these trips, you get to really see America," Lloyd says. "You get to see different parts of the country, and not just see them from the tourist perspective. Not just visiting the five-star hotel or the five-star restaurant. You are down there, and you're meeting people who are living their daily lives."
Daily life for residents in and around the city of Lawton, Oklahoma, has been difficult ever since flooding in 2015 left homes badly damaged. According to Nathan Pals, vice president of ISU AGC, the United Methodist Committee on Relief (UMCOR) estimates that more than 200 families still need help from the natural disasters of three years ago.
Thirty-five members of ISU AGC volunteered more than 1,907 hours of volunteer time to repair five homes during the break.
"You really get to see the reality that some people have to go through every day," Lloyd says.
A sophomore in construction engineering, Lloyd has taken part in both fall and spring trips. Pals coordinated this past volunteer experience. He has been on four AGC trips to date.
"Being able to see the love people have for others, how people give up their breaks and donate 50 hours of their week in hard labor to give back to those who are hurting … It motivates you to come back and do it again," Pals says.
Both Pals and Lloyd plan on returning for more volunteer trips with the group.
"It's nice to go on these trips and see older students who have been taught by other students before them," Pals explains. "They keep handing down what they have learned … It's awesome to see that, time and time again, going on these trips."
The group's materials and living quarters were provided by UMCOR. Senior Lecturer Larry Cormicle advises the group and is a faculty member of the construction engineering program at Iowa State's Department of Civil, Construction and Environmental Engineering.
---
Want more amazing student achievements? Follow ISU CCEE on Facebook, Twitter and LinkedIn (Iowa State University Civil, Construction and Environmental Engineering and ISUConE).