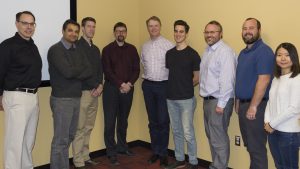 Researchers explore stress levels of people interacting in traffic systems through use of augmented reality techniques
When you drive through an accident scene, do you feel nervous? Perhaps stressed by the cars swerving in and out, slowing to a crawl and then speeding up. And does your stress affect the traffic situation around you?
Researchers at Iowa State University (ISU) are organizing exploratory studies to find the impact of stress levels on various actors in traffic incidents. Anuj Sharma, a professor of civil engineering at ISU, is the principal investigator of the project "InterchangeSE: A Federated Multimodal Simulation Environment for Studying Interactions between Different Modes of Travel."
Many decisions, little time
"We have a lot of simulation tools that simulate what is going on in traffic," Sharma, who studies big data issues in transportation engineering, says. "But very few involve multiple stakeholders."
Sharma uses the following as an example. You have various people intermingled in a trafficked area … pedestrians, cyclists, drivers, first responders, highway workers, and traffic management systems workers interacting via digital signage along a route.
In Sharma's example, traffic center employees can make a decision to change a sign to read, "Re-route to X Street." Drivers make a decision based on this information. As more drivers make a decision, traffic becomes congested. Other people, like cyclists, first responders, and highway workers, are affected. Traffic center employees make another decision based on the congestion, and so on.
The actions of all those people … cyclists in bike lanes, workers along the sides of roadways, drivers interacting with other drivers … can cause stress on every person using the traffic system.
The research
Sharma's team of researchers want to explore these types of complex scenarios through studying multiplayer interactions in a virtual/augmented reality environment.
How would this look? Researchers would use tools like wearable textile stress biosensors and head-mounted augmented reality devices (think augmented reality goggles). Test subjects would be placed in an immersive virtual environment wearing the biosensors and augmented reality devices. The test subjects would carry out a role. One test subject may be driving a car and another may be a pedestrian.
Virtual participants would be introduced as well. Researchers can measure the stress that any given action, such as a cyclist crossing the street, has on the test subjects who are simulating driving, walking, or working on the roadway.
"Each one of them are interacting with the same system," Sharma explains. "We want to design a simulation platform that can have a federated, multi-modal simulation environment studying interaction between different modes of travel."
Cost-effective alternatives
Sharma points out that simulation is a cheap, effective alternative to other test methods currently available to state departments of transportation. In addition, Sharma says engineers can make changes to the scenario easily.
"Once we develop this tool, it can be used by different agencies so they can plan their multi-stakeholder decision-making process relatively easily," he says.
Sharma's team includes Eliot Winer, a professor in mechanical engineering at ISU, who is leading virtual reality efforts and designing software architecture. Stephen Gilbert, an assistant professor in industrial and manufacturing systems engineering, will explore human-machine interaction within the concepts of the research.
The $1.5 million project will be completed in three stages, with the completion date slated for 2021. Major funding is provided in part by the Federal Highway Administration. Banc3 will be partnering with the research group to develop augmented reality glasses.
---
ISU CCEE researchers are always pursuing the newest research. You can keep up-to-date by following us on Facebook, Twitter and LinkedIn (Iowa State University Civil, Construction and Environmental Engineering and ISUConE).