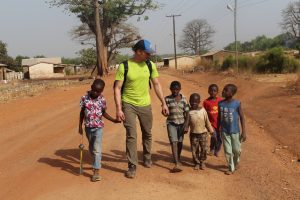 Civil engineering students work with university student organization to drill mechanized wells for safe water sources in Northern Ghana
Ullo is a small village. So small, in fact, that you may have trouble finding it with a Google Maps search.
This small village in the northern region of Ghana is where two civil engineering students spent their winter break. And it's where Iowa State University's Engineers Without Borders (ISU EWB) student organization has been traveling for the last several years, establishing relationships with the community and working on a critical water distribution project.
"The people are definitely the driving force behind it," says Kevin Prince. "The people that you meet there in Ghana, they are absolutely wonderful. It's incredible how happy they are, every moment you are with them."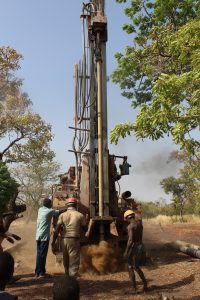 Prince is a senior studying civil engineering. He says ISU EWB students have been traveling to Ullo since 2014 to establish a new water distribution system that the local high school and community can use.
"Currently, the water situation has been very extreme … students are struggling with their academics because of the water issue," he says. "They often spend hours, either in the morning or at night, and some even in the middle of the night, going to the local hand pump boreholes."
ISU EWB worked with Engineers Without Borders USA to partner with Ullo on the water distribution project. In 2016, ISU EWB members worked on determining a site to drill and secure water.
The project could solve a host of issues for Ullo citizens. For the local high school, which can house up to 1,500 boarding students at a time, it could help with discipline and the overall learning environment. In conversations with school leadership, Prince was told that, "if you bring us consistent water, you'll solve 90 percent of the school's problems."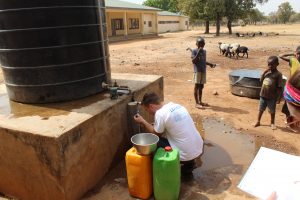 "It's hard to tell someone to not sleep in class or to make sure to get their homework done when they are just struggling to get enough water," he explains.
During this most current winter break, the group was able to secure a water source and began helping Ullo form a project management and operation maintenance team from its local leadership. The borehole that the group selected was 42 meters deep and pumped at 75 liters per minute for 24 hours during a constant rate test. Members will monitor the site during the upcoming dry season to evaluate the well, which lies over a recharging aquifer.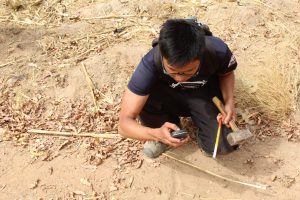 Kylar Oh is also a senior in civil engineering. This was his first trip to Ullo.
"By supplying this to the high school itself, we relieve some pressure from the community," he says. "If we can expand this system, it would make their lives easier. I hope that, when students from our club go over there, they appreciate the struggles that the community goes through and can bring that understanding and that empathy back to the other students of the club."
Both Prince and Oh will be graduating in 2018. But they are eager to hear from students who will travel to Ullo again to monitor and evaluate the water quality of the mechanized well site.
"The best part of this work is knowing that what you are doing is actually changing lives," Oh says. "It's not for the sake of money or a paycheck, but it's of a desire to actually help people. That's what I like most about it and what I find most fulfilling."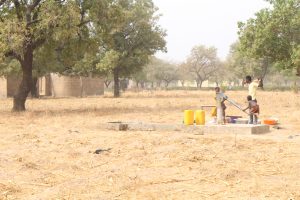 You can read more about EWB-ISU's water distribution system project by visiting the organization's website. During this most current trip, seven students traveled to Ghana with their advisor, Rameshwar Kanwar, a distinguished professor in Iowa State's Agricultural and Biosystems Engineering Department.
---
Want more inspiring student stories? Follow ISU's Civil, Construction and Environmental Engineering Department on Facebook, Twitter and LinkedIn (Iowa State Civil, Construction and Environmental Engineering and ISUConE).