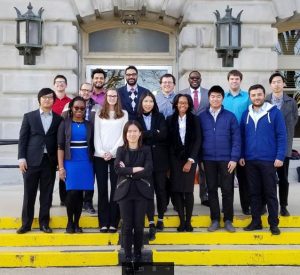 Graduate and undergraduate students take part in real-world engineering study in Boone County, Iowa
If you have ever had to make a decision based on your best estimates, you will understand the following statement.
"Engineers have to make decisions with incomplete information. It's a fact of life."
That is Omar Smadi speaking. Smadi is an associate professor of civil engineering at Iowa State University (ISU) and a researcher at the Institute for Transportation. This semester, Smadi guided a group of undergraduate and graduate civil engineers on a transportation study of Boone County in central Iowa.
Though Smadi is a veteran when it comes to teaching Civil Engineering (CE) 558: Transportation Systems Development and Management, it is the first time he has led his class on a transportation study of an entire county.
He can sum up the challenges nicely: "A county is a lot bigger!"
Planning, assessment and safety
Boone County is unique in several ways. It has U.S. Highway 30 dividing its northern and southern portions. The Des Moines River runs through the center of the county. The class of 16 students (13 graduate and 3 undergraduate students) divided into groups: transportation planning, asset management and safety. Using data and information from the county, the students conducted site visits to organize their study.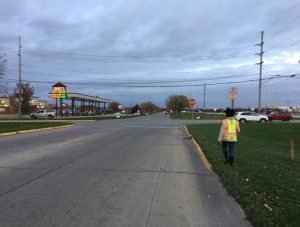 Morgan North just graduated this December from the civil engineering undergraduate program at ISU. She was one of the students involved in the transportation planning aspect of the study.
Besides picking up key lessons in team dynamics, networking and communications skills, North says the class mirrored industry standards.
"As a firm, you still have to do studies," she said. "You still have to ask how this project is going to affect the community, how is it going to affect the businesses."
Smadi warned students from the get-go that answers would not come easily in this study.
"Students are used to, 'Here is a problem, and here is all the information,'" he said with a smile. "… Sometimes they have to make decisions without all the data."
Solving challenges
Incomplete information wasn't the only real-world experience available to the class. Students learned about limited budgets and competing priorities.
"Time restraints, money, they all become factors," said Scott Kruse.
Kruse is the county engineer of Boone County. His engineering office supplied the students with information and data to complete the study. Kruse met with the students on various occasions and sat in on their presentation to the Boone County Board of Supervisors in November.
"They did a thorough job of covering things," he said. "I was excited for them and also for us, that they had done such a good job."
Kruse and the board of supervisors will receive the class's written report later this month.
For newly graduated engineers like North, the report was like payday.
"Putting it together and finally presenting it was the best part about it, because I had a final product," she said.
---
Read more about Iowa State University Civil, Construction and Environmental Engineering Department's student research opportunities by following us on Facebook, Twitter, and LinkedIn (Iowa State University Civil, Construction and Environmental Engineering and ISUConE).