Who could pass up traveling the historic Route 66 in a 1930 Model A Ford? Not Christopher Gillis. He wanted a summer experience that the typical student usually does not take. He wanted adventure, but he wanted it in an old-fashioned way.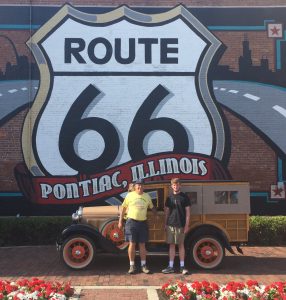 While most students were completing internships and work experience, Gillis was traveling the United States and soaking in the sun, sites, and friendly greetings from travelers that passed him by along one of the United States' first public highways, originally built in 1926.
Christopher Gillis, a materials engineering sophomore from Frederick, Maryland, is a student with many interests. He's a welder, an automobile and windmill collector, owns a 1951 Ford F3, and has a passion for traveling. Those hobbies and interests opened the door to a summer experience that was one for the books, quite literally.
Dr. T. Lindsay Baker, a family friend of the Gillis' from Blum, Texas, was ready to accomplish his goal of writing a book about the eateries along Route 66. He needed a travel partner and wanted to go with someone who shared his passion for old cars, history, good food, and travel. Gillis was ready for the adventure! Gillis and Dr. Baker, a retired professor from West Texas A&M, had the opportunity to experience cross-country travel, the delicious food, views, hotels, and history along the way in a 1930s station wagon, a Model A Ford, owned by Dr. Baker.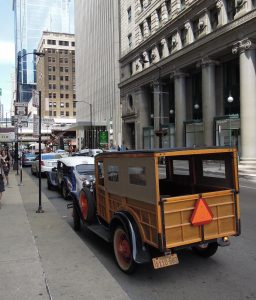 The two of them began their trip on July 4, 2017. Their trip started in Texas at Dr. Baker's home, and they started north towards the beginning of Route 66 in Chicago, Illinois. They took the historic pavement over 2,000 miles from Chicago to Santa Monica, California, the last destination on the Route 66. Their journey included driving through the deserts, abandoned cities, and mountains, and the two of them never looked back.
This was a journey that took the two eager travelers about one month to complete. It ended on July 28, 2017, and they ventured about 5,500 miles in total. It was no speedy drive. They drove around 200 miles per day between stopping at eateries and seeing the scenery along the way. The old 1930s Model A Ford traveled around 45 miles per hour down the interstate striking many honks, thumbs-up, waves, and smiles.
What made this car so special? Their 1930 Model A Ford was as original as it could be. There was no power steering or hydraulic breaks. It was no better or worse than when it was originally built. The only differences included the rebuilt engine and added overflow from the radiator. The Model A Ford is an upgraded version of the original, Model T, that was produced from 1908-1927. According to Corporate Ford's timeline, the Model A was first built in 1927. By 1931 over five million of these cars were sold.
As Gillis and Dr. Baker traveled along historic Route 66, they embraced the history that their journey and environment presented them with the help of the popular tourist book called EZ66 Guide for Travelers by Jerry McClanahan. This book guided them through the old route because maps and signage have become spotty and sparse.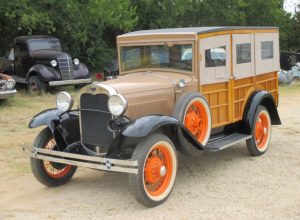 The primary reason for making this cross-country trek was to experience the eateries along the route so Dr. Baker could complete his book, and they did just that. The old eateries are some of the highlights that make Route 66 so special. Riverton, Kansas is home to not much more than the Old Riverton Store known for their bologna sandwiches. It was originally built in 1925. They also stopped at Delgadillo's Snow Cap Drive-In in Seligman, Arizona built in 1953 and many other historic BBQ restaurants and restored gas stations.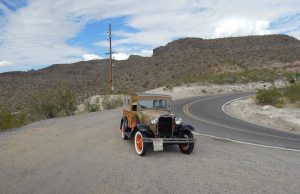 After their bellies were full, Gillis and Dr. Baker traveled on to see varied landscapes including the Petrified Forest and the Painted Desert in Arizona. His favorite destinations were the 50,000-year-old, one-mile-wide meteor crater near Winslow, Arizona and the twisting, steep hills of Sitgreaves Pass in Golden Valley, Arizona.
When the days of driving came to an end, the two found themselves bedded up in historic hotels.
They stayed in Carthage, Missouri at the Boots Court, a historic hotel built in 1939. They also stayed in the La Fonda, a hotel in Santa Fe, New Mexico that dates back to 1922. Another highlight was staying at The Blue Swallow in Tucumcari, New Mexico whose website boasts, "Serving travelers since 1939… our guests enjoy a pleasant reminder of what it was like to travel across the USA in the 'good old days.'"
This trip was mostly for fun, but Gillis gained memorable experiences and a first-hand history lesson too. He noted that a few of his favorite parts of the trip were meeting kind and interesting people along the way and learning a few roadside vehicle diagnostics skills, too.
It's not every day you get to drive a 1930s Model A Ford in 2017, and it's not every day that you get to travel cross-country 2,000 miles on a 91-year-old highway through abandoned towns, mountains, and deserts- at least not for this Maryland raised, Iowa State student. Gillis couldn't pass up this adventure, and it was evident by his exuberance in his storytelling that he would not have wanted this summer to go any other way.