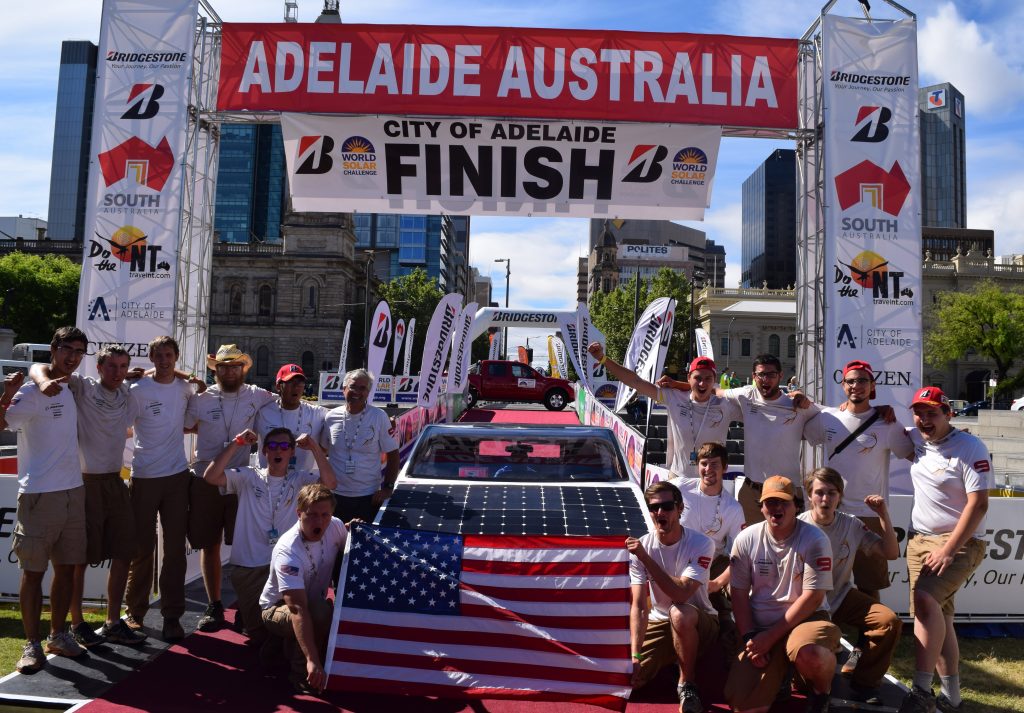 ADELAIDE, AUSTRALIA – PrISUm Solar Car finished the 2017 Bridgestone World Solar Challenge in classic Iowa State style: blasting Neil Diamond's "Sweet Caroline" as they crossed the finish line in South Australia's capital city.
The team finished the 3021-kilometer journey around 2 p.m. local time on Friday. The day began in Port Augusta and the team trekked just over 300 kilometers south through the green, rolling hills of southern South Australia which was at times dotted with wind turbines and sheep.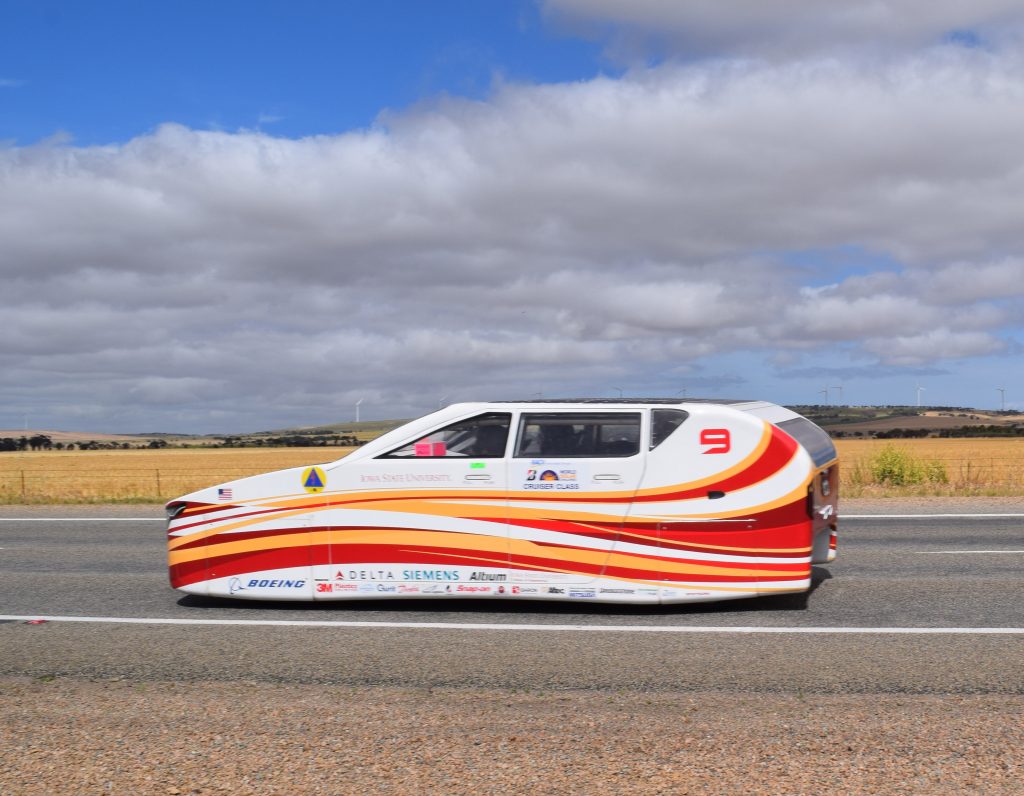 Temperatures were in the 70s and skies were cloudy for much of the day. Despite the inconsistency of the sun, the solar car, Penumbra, had enough power stored in its battery to complete the race.
"The advantage of having a battery in addition to the solar panels is that you can charge when it's sunny so you can still go when its not," said Lucas Ince, the team's Strategy Director. "For instance you could drain the battery on your drive to work, have it charge while you work and then drive home."
Hundreds of locals, solar car team members, and others greeted the car as it passed the finish line in Adelaide, a coastal city with a population of over 1.3 million. Not only did this mark the end of the six-day race, but it also marked the end of a three and a half year journey for many of the team's graduating members.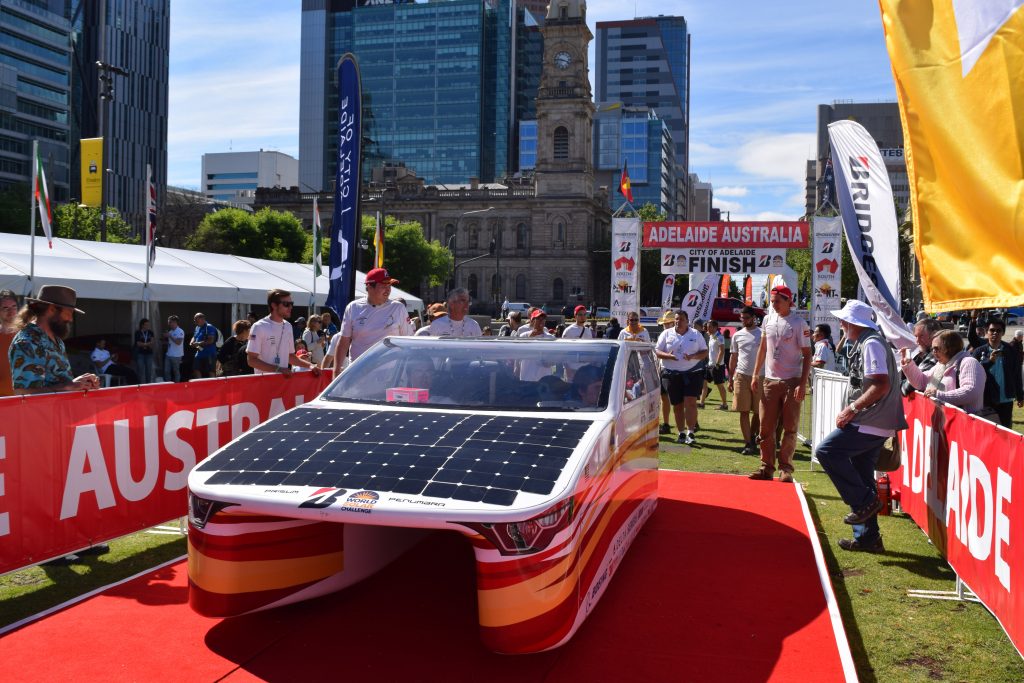 Ince, a computer engineering senior from Lakeville, Minn., said the experience was unforgettable.
"The race was a challenge and at times very stressful, but being here in Adelaide and looking back on everything I did to make this car a possibility it has been my greatest college experience," he said.
Andrew Bonde, a mechanical engineering senior from Humboldt, Iowa, said it was a testament of his Iowa State University education.
"This race has been the culmination of everything I have learned while at Iowa State. The countless hours I have spent on this project have been displayed and tested while in Australia," he said.
Bonde, who earned the nickname of Frostee, has been with PrISUm since his freshman year and said his time on the team has taught him how to apply what he's learned in the classroom in a hands-on way.
"I have learned a lot from my classes at ISU and PrISUm has taught me how to use that knowledge in a practical manner."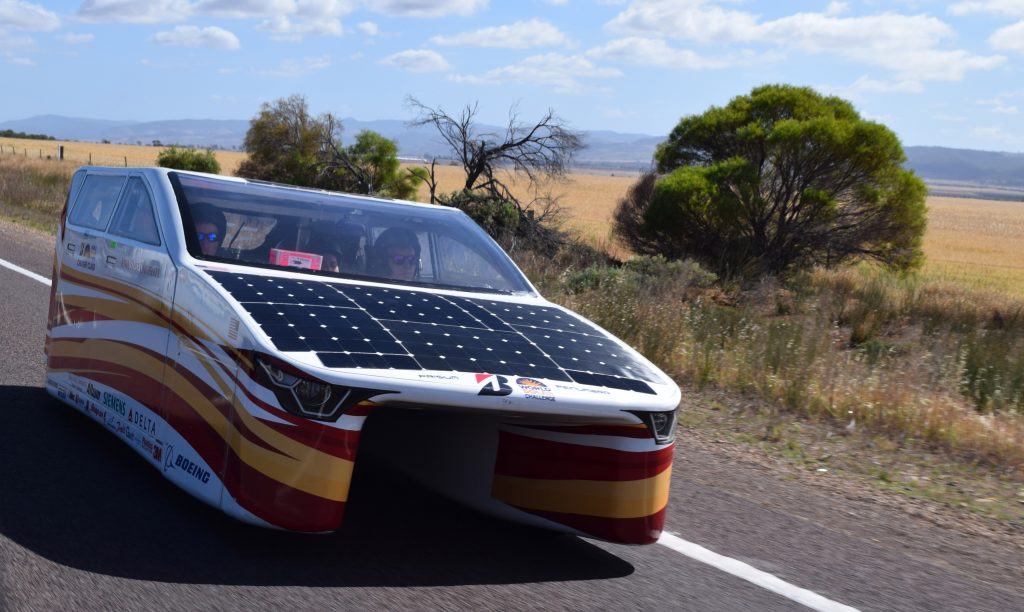 For Matt Goode, a materials engineering senior from Coggon, Iowa, the race was a prime example of experiential learning.
"The race this year was an extraordinary learning experience for myself. Leading a team of such talented individuals was remarkable, and allowed myself to further my technical, leadership, and interpersonal skills. Not only was this my first time traveling abroad, this was the team's first time competing in another continent. Fortunately, the team was remarkable and we overcame all setbacks thrown at us during the challenge. I am going to follow the team closely in the future as they learn from our experiences and continue to change the paradigm of transportation."
Goode will graduate in December and will then depart for Los Angeles where he'll work as a lead build reliability engineer for the second stage at SpaceX. He said his experience with PrISUm helped to prepare him for his future career.
"SpaceX and other start-up companies are high work load and high commitment level companies. The individuals found at these companies are passionate about their work and truly believe in the mission for which they stand. PrISUm is the exact same environment and has fully prepared me for a start-up style work environment. Thinking outside the box, long nights, challenging issues, and lots of coffee can be found both in the workforce and PrISUm and I can't thank the entire team enough for creating and maintaining this environment."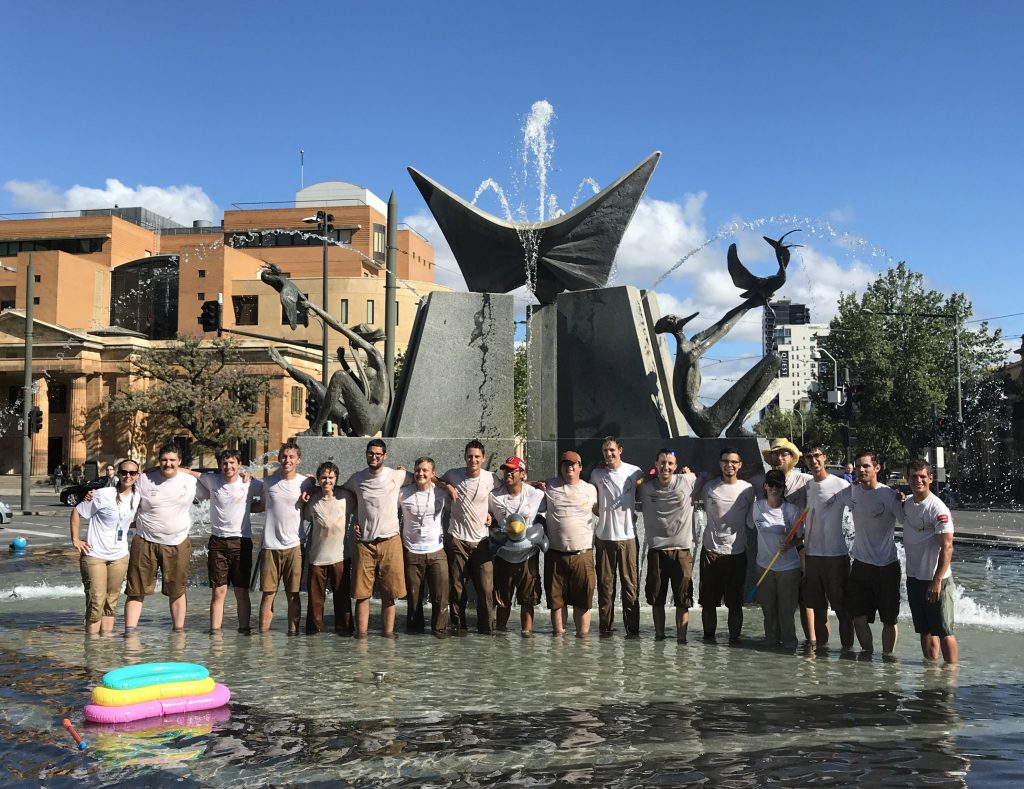 Dylan Neal, a mechanical engineering senior from St. Louis, Mo., was tearing up as he hugged his teammates, all of whom took a dip in the Tree River Fountain in Adelaide's Victoria Square, a tradition for those who finish the Bridgestone World Solar Challenge. He said finishing the race was a nice bookend to his college career.
"Crossing the finish line here in Australia, is the culmination of 28 years of dedication and dreams," he said, referring to PrISUm's 28 years of existence. "The team, two and a half years ago, set out to do something different. For years, whenever visiting with the public, everyone would always ask 'when can I use a solar car?' That motivated our team to really challenge the way people think about solar transport and build the future. It was a crazy idea back then, with many doubts. Yet, here in Victoria Square, we have proven that any dream can become a reality. This program has represented my desire to make a difference in the world by coming to Iowa State. I am so thankful for the individuals I have the pleasure of calling my colleagues and friends. PrISUm is like my second family. I am so excited to see what the future holds for the organization and I am honored to know I had a part to play."
Under the leadership of Neal and Goode, Team PrISUm has grown from roughly 20 members in 2013 to more than 120 today. Neal attributed the growth to the the team's strong focus on "changing the paradigm of transportation."
"It is all about our mission and purpose," he said. "We spent weeks trying to lock down what PrISUm represents. I truly believe because myself and Matt motivated the program to build a normal car, that will change the paradigm of transportation and inspire the future, is the reason for the growth. We gave the program a revitalized direction and purpose. That purpose, is to make the world a better place. Every member of PrISUm that put in work to the project can know that their part, large or small, is changing the future."
With the race now behind them, Neal said he hopes that future generations of PrISUm will be able to return to Australia to create the same memories that he knows will be with him for the rest of his life.
"I could talk on and on about the technical details. But, in essence, there are always things to learn and improve on. The batteries, the efficiency, the electronics, the mechanical function, and anything you can think of. It won't be easy, the times will get rough, and sometimes there will be no light at the end of the tunnel. The most important part about this program, every outreach event, every interaction, and the World Solar Challenge, is that it is built upon the foundation of dreams. Where there is a will, there is a way. Do the impossible and challenge yourself – with great challenge comes great reward. Keep dreaming, always."
The Bridgestone World Solar Challenge is a 3021-kilometer biennial race that began in Darwin in Australia's Northern Territory on October 8 and finished in Adelaide in Southern Australia on the 15th. 2017 marks the race's 30th year and featured 42 teams from more than a dozen countries.