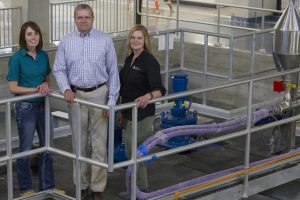 At the closure of a nearly 10-year project, three local environmental engineers make lasting impact on Ames community
Engineers Kris Evans, Lance Aldrich and Jenny Ruddy will have a big effect on Ames citizens for years to come. Whenever someone turns on the faucet, he or she will come into direct contact with the work of these three Iowa State University (ISU) alumni.
On Aug. 26, the City of Ames will host the grand opening of its newest water treatment plant. The plant is located on the east end of town on 13th Street. For the last decade, the City of Ames in conjunction with FOX Engineering has been designing and building the brand new plant.
The new plant
"You feel like you've been handed a huge responsibility," said Evans, the environmental engineer for the City of Ames. "The other plant lasted 100 years. Going into design, we consciously had to think about the future."
Evans earned her bachelors (B.S.CE'98), masters (M.S.CE 2000) and doctoral degrees (Ph.D.CE 2004) in civil engineering from ISU. The century-old water treatment plant has served as her work base since she began at the city in 2007.
"It's sad to see a facility that's been used for about a hundred years start to come to a close," she said. "At the same time, it does create a really exciting opportunity: a brand new facility [with] lots of opportunity to share the process and the treatment plant with people. It's sad on one hand, and it's extremely exciting on the other."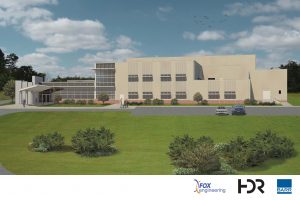 Local project, local impact
Aldrich (B.S.CE'94) and Ruddy (B.S.CE 2008, M.S.CE 2009) are both environmental engineers for FOX Engineering. For these two community members, one of the neatest parts of the project lies in its local roots.
"First and foremost, the project brings high-quality drinking water to the community of Ames," Aldrich, who is top principal at the firm and the senior project manager in FOX Engineering's water and wastewater group, said. " … This provides future opportunities in Ames for industry and economic growth."
At this time, both Aldrich and Ruddy are working with contractors to test the plant processes and prepare for the open house in August. A $70-million project (including construction, design, land, etc.), the new plant will have a treatment capacity of 15 million gallons of water per day (MGD).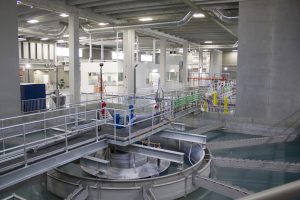 Expert advice
All three engineers take lessons from their time at ISU to work each day. They all remember completing team projects and intense course work (each alum found this college experience helpful during the treatment plant process). Ruddy, who is a project engineer in FOX's water and wastewater group, says internships are also a game changer for up-and-coming engineers.
"Definitely pursue internships during as many summers as you can," she said. " … It's a good way for students to get to know companies and for companies to get to know students. It opens pathways."
Aldrich encourages students to take on classes in various focus areas. Whether it's transportation or structural or mechanical engineering, it's important.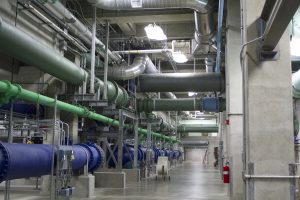 "Especially as an undergraduate, keep the breadth of classwork pretty wide," he advised.
Finally, Evans stresses that communication skills can make the difference between getting ahead—and being left behind.
"Get any and all opportunities to present and talk in front of groups," she said.
The City of Ames will host an open house to share the new Ames Water Treatment Plant with the public on August 26, 2017. Tours and activities will take place from 9 a.m. to 1 p.m., with a ribbon cutting taking place at 9 a.m. Multiple ISU alumni and student interns from various majors have been involved during the planning and construction of the treatment plant. You can find out more by visiting the city's website or by viewing the short documentary Ames Water Treatment Plant: for decades to come.
---
Interested in the work of ISU civil, construction and environmental engineering alumni? Follow our department on Facebook (www.facebook.com/isuccee), Twitter (www.twitter.com/isuccee) and LinkedIn (Iowa State University Civil, Construction and Environmental Engineering and ISUConE).