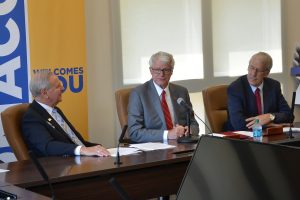 Read more coverage from Business Record and Iowa Public Radio.
Iowa State University (ISU) and Des Moines Area Community College (DMACC) have entered into a partnership to establish the Iowa Cyber Hub with the goal of increasing the number of cyber security professionals in Iowa.
With the increased incidents of cyber-crime, Iowa and the Nation are facing a severe shortage of cyber security workers, with some estimates of over 300,000 unfilled cyber security jobs in 2016 alone. According to Cybersecurity Ventures, cybercrime damage costs are projected to reach $6 trillion annually by 2021.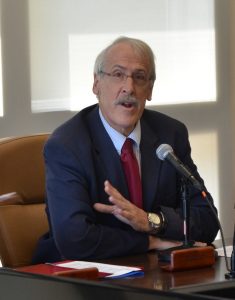 ISU Interim President Dr. Benjamin Allen and DMACC President Rob Denson today signed a Memorandum of Understanding to create the Iowa Cyber Hub, a regional facility where companies can work with ISU and DMACC on cyber security issues with the goal of creating a larger cyber security workforce.
"Iowa State University has long been a leader in cyber technology and security – from the invention of the first electronic, digital computer to our prestigious designation as a National Center of Academic Excellence in Information Assurance and Cyber Defense Education," said Dr. Benjamin Allen, Iowa State Interim President. "Now, in partnership with DMACC, we're leading the way once again. The Iowa Cyber Hub will help meet a critical need to secure the nation's cyber infrastructure."
DMACC President Rob Denson said DMACC is very pleased to partner with ISU on yet another very important workforce skill issue here in central Iowa and beyond.
"The Iowa Cyber Hub is an innovative concept that expands on the partnership developed among local businesses, ISU and DMACC," said Denson. "Strong faculty at Iowa's two largest institutions of higher education with specialized expertise, along with guidance from the Central Iowa IT Partnership, will ensure that we build capacity to train the cyber security workforce for the future."
"The new DMACC programs in cyber security that will transfer to ISU will provide students several pathways to a degree and will meet the needs of both full-time and part-time working students," said Dr. Kim Linduska, DMACC Executive Vice President of Academic Affairs.  "It's a great opportunity for both institutions to continue our strong partnership to meet the needs of all of our students."
DMACC Business Management/Industry and Technology Academic Dean MD Isley said this Iowa Cyber Hub creates a variety of different options to get more people to enter into the cyber security field.
DMACC will create a new Associate in Applied Science (A.A.S.) degree in Cyber Security and modify an existing articulation pathway from DMACC to ISU.
"We're also in the process of developing a professional certificate in cyber security that will prepare individuals with a four-year degree to enter into Iowa State's graduate-level cyber security program," said Isley.
He also said both DMACC and ISU will be working with middle schools and high schools to get more students interested in cyber security.
"The Iowa Cyber Hub will create a critical mass of cyber security education and training in central Iowa," said Doug Jacobson, ISU Professor of Electrical and Computer Engineering, and a leader of the initiative. "Working together, we will serve the needs of students, faculty and employers, while also inspiring the next generation of 'cyber sleuths' in Iowa's middle and high schools."
Jacobson, a faculty member at ISU for more than 32 years who has developed countermeasures for network-based security exploits and large-scale attack simulation environments, will be a lead member of the Iowa Cyber Hub.
"We're very fortunate to engage in this project under the leadership of Dr. Doug Jacobson, an Iowa State University Professor and nationally-known expert in computer and network security and information warfare," said Isley.  "It's great to have his expertise right here in central Iowa as our two institutions work to develop talent to help protect our cyber infrastructure and consumer information."
Enhanced company interaction: The efforts listed below are designed to increase the interaction between Iowa companies, DMACC and ISU.  By providing more and better opportunities for students, faculty, and companies to interact we can increase the number of students seeking IT and cyber careers in the Midwest and help train the current workforce to meet the cyber security needs of the region. The Iowa Cyber Hub is envisioned to include:
Space for companies to rent at ISU and DMACC for onsite support designed for their specific business
Company direct hire Internships and apprenticeships
Project based intern experiences
Cyber security short courses for companies to enhance the skills of their existing workforce
Faculty directed projects
Facilitated interaction between ISU and DMACC faculty and students

Cyber security pathways: The efforts listed below are designed to increase the number of students entering post-secondary education to study cyber security by creating well defined pathways, starting at middle school. They will:
Create clear marketing and messaging to increase the number of students entering cyber security degree programs
Supplement middle school and high school cyber curriculum
Establish the DMACC Cyber Security Career Academy for high performing high school students
Enhance the DMACC cyber focused AS degree to ISU BS/minor
Articulate 200/300 level cyber security courses at ISU to DMACC
Create a DMACC AAS degree in cyber security; course to course articulation between DMACC and ISU
Promote the DMACC Professional certificate as a gateway to an ISU Master Degree in Information Assurance (IA)  
About DMACC
Des Moines Area Community College, a public institution serving the educational and career training needs of Iowans, is committed to the lifelong success of its students. As Iowa's largest two-year college, DMACC offers 252 programs, certificates and transfer degrees, annually serving more than 70,000 credit and noncredit students on six campuses and six learning centers. Thanks to college-wide innovation, new programs and affordable tuition, DMACC continues to experience solid growth. For more information, visit www.dmacc.edu.
About ISU
Iowa State University is one of the nation's leading public research universities. Founded in 1858, the university provides world-class education to more than 36,000 students; conducts research that addresses society's most pressing challenges; and shares that scholarship in all 99 Iowa counties through its Extension and Outreach programs. Iowa State is a member of the Association of American Universities and the Association of Public and Land Grand Universities, and a member of the Big 12 athletic conference. For more information, visit http://www.iastate.edu/.