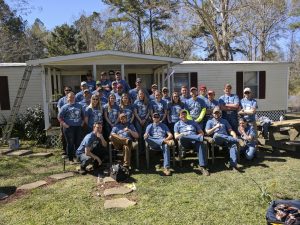 Members of Iowa State University's Associated General Contractors use spring break to volunteer in North Charleston area
A disabled veteran. A widowed grandmother raising three grandchildren. A single mom working two jobs. John Raimer can list family after family that has benefited this month from the work of Iowa State's Associated General Contractors Student Organization.
"We depend on volunteers to repair homes damaged from the hurricane and the flooding," Raimer, who is the construction manager for the Charleston Area United Methodist Church of South Carolina Disaster Response Team, says.
The ISU construction engineering group (ISU AGC, for short) volunteered to help families, many of whom had been waiting for help for a year and a half.
"For some families, this was the second time the house was flooded (once in October 2015, and then again in October 2016)," Raimer says. "For the community to see college students give of their time and talents really uplifts spirits and gives hope."
If uplifting spirits is a qualification for ISU AGC members, Iowa State senior Kurtis Schreck hits the mark. Schreck is vice president of the organization and two-time coordinator of the break volunteer opportunities. A die-hard proponent of the trips, Schreck says he would encourage any classmate to get involved. After all, it's the way he got hooked on AGC.
"I didn't even do an AGC event before I went on a spring break trip my freshman year—both me and the current president," Schreck says with a grin. "We went on the trip and had a great time. We happened to get a really good crew and built an entire home from foundation up in four days. That was the most fun thing ever for me!"
While volunteering in South Carolina during this year's spring break, Schreck and his fellow students used their time to fix houses. They hope that, by mending holes in floors and leaks in roofs (or building a new roof), they can alleviate worry and allow homeowners some freedom to think beyond the basic needs of shelter.
"Growing up in an unsafe house can lead to unsafe housing becoming a norm," Schreck explains. "Giving someone either a waterproof house or just one that doesn't leak or doesn't have holes in the floor lets that person focus on other parts of life."
The trips offer an opportunity to network as well. This spring, AGC toured the Mercedes-Benz Stadium and Clemson University student housing projects, both offered through industry relations at Holder Construction. These interactions between students and employers become "second nature," as Schreck puts it.
"It opens so many opportunities," Schreck says. "You meet so many contractors, and it's so easy to talk to them once you've talked to a hundred of them."
In all, 36 students completed nine projects (or nearly 1,700 hours of work) for families in the North Charleston area. This will be the last volunteer trip Schreck will organize, as he steps down from his role as vice president at the end of the year.
"I'll miss the responsibility in planning the trip," he says. "It's really cool to leave my own mark on it."
"This group is highly skilled and very organized," Raimer says. " … Your school should be very proud of what this group does."
---
ISU AGC is a student organization of Iowa State's Department of Civil, Construction and Environmental Engineering (ISU CCEE) and is advised by Construction Engineering Senior Lecturer Larry Cormicle. Connect with us online by following us on social media, including Facebook, Twitter and LinkedIn (Iowa State University Civil, Construction and Environmental Engineering and ISUConE).