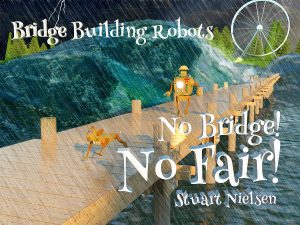 Structural engineer authors book series highlighting engineering opportunities
Bridge building is Stuart Nielsen's passion and an experience he wants to share.
"I was trying to think of how I could help in my little way," Nielsen said. "I thought of engineering books for little kids, so that they could see what we do."
Nielsen is the author behind the "Bridge Building Robots" series. A lecturer at Iowa State University's Department of Civil, Construction and Environmental Engineering (ISU CCEE) and the methods engineer for the Iowa Department of Transportation's Office of Bridges and Structures, Nielsen writes each book with real-world knowledge.
Stories in the series detail the adventures of robots using actual engineering principles to, well, engineer their way out of mishap by designing and building bridges. The books include engineering terms, easy-to-understand sketches, and hands-on activities.
Nielsen started self-publishing the books back in 2014. The series grew as the structural engineer saw a need for fun resources to teach STEM topics.
"About two years ago, I got more interested in the STEM programs: science, technology, engineering and math," Nielsen explained. "I thought, 'There's nothing about bridges out there.'"
The series developed from Nielsen's first book, "Nieko: The Bridge Building Robot," to an entire series. Nielsen intends the books for elementary levels; however, he hopes the activities and illustrations in the books will lead parents to have educational conversations and take on engineering learning activities with young children.
Each book is designed to be read on an I-Pad or tablet. Nielsen illustrates his books using SketchUp, a 3-D modeling software that he also uses in his classes at ISU. He takes names and examples from his life and career to fill his books.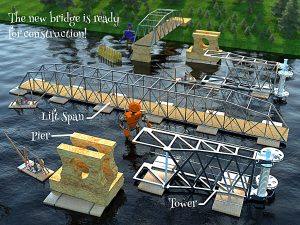 As outreach, Nielsen visits schools in the Ames and Des Moines areas to share his books. When he presents to a class, he brings activities to engage students in the learning process.
"I try to get them interested in engineering by telling stories, the things they can accomplish, how they can overcome obstacles with engineering," Nielsen said.
Overall, he hopes kids learn that engineering can be both fun and rewarding.
"I personally think there's a lot of joy in engineering," he said. "I think it is satisfying to build something that people need. I think it gives you a good feeling to know that you can help society."
---
Visit Nielsen's website for more information and to check out the "Bridge Building Robots" series. Want more interesting articles? Subscribe to ISU CCEE's Facebook, Twitter and LinkedIn accounts (Iowa State University Civil, Construction and Environmental Engineering and ISUConE).