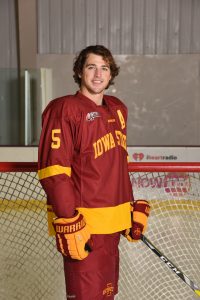 Cyclone Hockey's Jake Uglem strikes a balance on the ice and in class
If the first round of semester tests is stressful for you, imagine navigating class responsibilities while balancing an athletic schedule.
Jake Uglem doesn't have to imagine. Balancing responsibilities is a regular thing for the Cyclone Hockey defenseman.
Uglem, an Iowa State University (ISU) junior studying construction engineering, just returned from playing for the U.S. Men's National University Team at the 2017 Winter World University Games in Kazakhstan.
"It was just super cool to be able to wear a USA jersey," Uglem said. "You dream of doing that growing up as a little kid, and it actually happened for us."
"Us" refers to both Uglem and his brother, Tony. The siblings are teammates on ISU's Cyclone Hockey Division 1 Team. They went down in the records this year for being only the second pair of brothers to play together for Team USA in the Winter World University Games.¹
"We really never imagined something like that would happen," Uglem said of the experience. "We've been playing together forever."
The brothers grew up playing hockey in Minnesota. Concussions prematurely halted the hockey career of Nick Uglem (a third Uglem brother). But Jake and Tony continued to play right through to their acceptance at Iowa State. For the Uglem's, hockey is more than a game.
"I started skating when I was probably four," Jake said. "I've just played my whole life."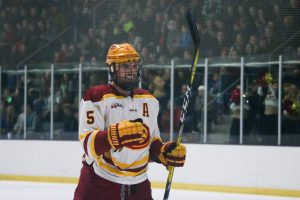 Balancing time between practice, games, and classes has become a lifestyle for the construction engineering student. At the start of his college career, Uglem toyed with which major best fit him. He was interested in design, and ultimately chose construction engineering for its ties to architecture and design-build fields.
This semester, Uglem's schedule is packed. The Central States Collegiate Hockey League playoffs start at the end of February, followed in March by the 2017 American Collegiate Hockey Association National Tournament. When asked what advice he could give fellow students for optimal time management, Uglem knows that balancing time successfully is "a lot of effort."
"It's just buckling down when you have the time," he said.
Uglem encourages Iowa Staters "not to get too stressed out, because that will definitely, definitely slow you down."
"Ask your classmates and teachers for help if you need it," he said. "Don't try to put it all on your shoulders."
¹ Hall, Brian. "Jake and Tony Uglem Relishing Change to Play Together on Team USA." teamusa.usahockey.com/news_article/show/753258?referrer_id=2889715. 
---
Want more stories like this one? Follow the latest CCEE student news at www.facebook.com/isuccee, or on Twitter @isuccee.