Earthquake Engineering Research Institute at Iowa State seeks donations to compete in March competition
On March 7-10, Iowa State University's Earthquake Engineering Research Institute (EERI) student organization will travel to Portland, Oregon, to compete in the 2017 Undergraduate Seismic Design Competition.
The team is currently seeking donations from individuals and companies to defray the cost of registration, construction materials, travel, and lodging.
"It's about how to work with others, how to work on a team, and what it means to be a team member," Phuong Vo, the team's captain, says of both the competition and the work leading up to it.
Vo attended the competition last year in San Francisco, California. This year, the team's fundraising goal of $5,000 dollars must be met prior to March 3 in order for Vo and her teammates to again participate.
"You are investing in our future," Vo says to potential donors. "You're investing in our drive to want to know more."
At the competition, teams construct model buildings on a shake table that simulates an earthquake. The goal is to build a model that can withstand the earthquake simulation. Teams from across the world travel to compete in this event.
"As engineering students, we have so much on our plate already," Vo explains. "So to take on even more? I love my team. I am so proud of them."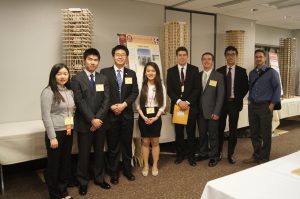 Before getting to the competition, teams are chosen after a critique of each team's design proposals. The detailed proposals consist of architectural, structural, geotechnical, economic and predicted structural behavior analyses. Iowa State EERI members have been working on their model building since the beginning of the school year.
"This has been a very long journey," Vo says. "It's not something where we just one day say, 'OK, let's do it,' and we get rolling. It takes a lot of preparation to pull something like this together."
If you would like to donate, visit https://fundisu.foundation.iastate.edu/project/4809. Catch a sneak peek of the work these students are doing by viewing the video above.