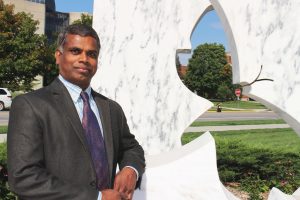 This month, researchers from Iowa State University's Department of Electrical and Computer Engineering (ECpE) will work with a team from the University of Nebraska-Lincoln to conduct cybersecurity defense research, thanks to a contract from U.S. Strategic Command (USSTRATCOM), awarded to the National Strategic Research Institute (NSRI). The two universities will collaborate with cybersecurity industry consultants to identify weaknesses within and propose solutions for infrastructure in various cyber-physical systems.
Manimaran Govindarasu, Mehl Professor with Iowa State's ECpE department, is working on the project, specifically studying qualitative risk assessment for Industrial Control Systems.
This contract was featured in release from the NSRI; read the full article here.