For Martin Thuo, Ian Tevis, and their research group, there is a great deal of success to celebrate as they look back on the year of 2016. Thuo, Associate Professor, and Tevis, SAFI-Tech Chief Scientist and Affiliate Assistant Professor in Materials Science and Engineering, have led their groundbreaking work in discovering and advancing heat-free soldering. SAFI-Tech, a startup company, was initiated due to their research success and a published patent. Their work was featured as a top chemistry discovery in Chemical and Engineering News (C&EN) Magazine, and in November, SAFI-Tech received an award in 'Best Materials Development' at the IDTechEx Printed Electronics Conference in Santa Clara, California.
The innovation and success all started in Thuo's office as he and Tevis were brainstorming in December of 2014. After some analysis and thinking outside the box, they saw something unexpected in their data. They went to the lab to start exploring these ideas.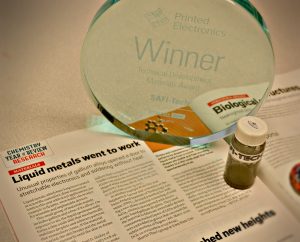 When they started the research on heat-free soldering, The team was comprised of Martin Thuo, Ian Tevis, Simge Cinar, and Jiahao Chen. Simplifying and reducing manufacturing costs while also lessening the chance of damage to heat-sensitive components in the microelectronics industry motivated their research. Thuo's group found that soldering at room temperature is accomplished by using an alloy mixture of bismuth, indium and tin, also known as Field's metal, and isolating into tiny droplets that can be supercooled to ambient temperature while remaining in liquid form. A thin, solid shell encapsulates each droplet. Then the droplets can be mechanically broken, and the liquid then can flow into the necessary area and quickly solidify. (For more in depth information about the research, see http://www.nature.com/articles/srep21864)
Because of this breakthrough research, Thuo and Tevis started SAFI-Tech, a start-up company with goals of commercializing heat-free soldering. "Safi" means clean in the Swahili language and is a representation of their discovery. SAFI-Tech is currently looking for seed funding and is a member of the ISU Startup Factory- a 52-week program that is broken up into two halves. The first half focuses on classroom time and the second half, the current phase of SAFI-Tech, focuses on working with mentors to develop their business.
"I'm a technical guy who isn't very aggressive. I could play it safe in the lab. Because of my experience with the ISU Startup Factory, I was pushed to talk to people, learn about the needs of the industry, and show others the problem we were solving. I also would not have applied for the IDTechEx award either," said Tevis.
Thuo and Tevis look forward to 2017 and working towards their goal to meet industry standards and specifications. The first phase of their research and startup company focused on feasibility as they worked toward making their product reliable and mechanically strong. Now they are working on scaling the process, meeting specifications and developing partnerships with other companies to focus on the demands and problems that need to be addressed within the industry.
Although their research began two years ago, 2016 was the year of awards, recognition, and sustainability for the discovery of heat-free soldering.  SAFI-Tech has filed a patent that has been published. In March, they were featured in C&EN Magazine, and in December C&EN Magazine selected them as a top chemistry research discovery for 2016. On November 17, 2016, SAFI-Tech won Best Technical Development Materials Award at the IDTechEx Printed Electronics Conference USA Exhibition in Santa Clara, California. This conference displays the latest technologies across the world. They were also recognized by IDTechEX CEO, Raghu Das saying, "IDTechEx repeatedly hear from integrators about the challenges of attaching components to low-temperature flexible substrates where a high conductivity connection is needed but without using a high-temperature process. The judges commented on the need for the solution offered by SAFI-Tech, where a room temperature, cure on-demand solution would be very valuable." These recognitions and awards have brought about a wave of confidence and reassurance for SAFI-Tech.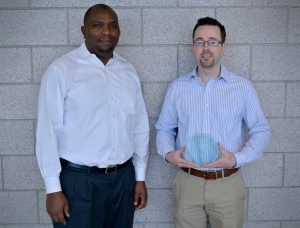 As Thuo and Tevis reflect on the year, Thuo describes his most rewarding moment: "It's a combination of many things. When you think outside the box, things work. If you follow tradition, it may get you where you want to be, but I am pushing my group to think outside the box. We are focusing on frugal innovation. That means giving students minimal technology and helping them think instead of generating volumes of data. Success in our lab is validating that concept. The ideas are there; we have dedicated people. The best part is that this is not the climax. We are still on the foundation of our research, and we look forward to the future."
Tevis says, "Starting a company is taking a risk, but the ISU Startup factory has gone well. Receiving the grant to continue our research is validation, and then the CEO of IDTechEx makes a statement about us. It's all very rewarding."
Thuo said, "The icing on the cake is the people- the gifted students in the group, not just the science. We need good talent, quality interactions, drive, and inventive teams. It helps to have people who are willing to take risk with you."