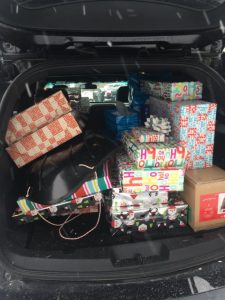 Iowa State University Associated General Contractors (ISU AGC) members mark season with donations to those in need
When Nathan Pals organizes Iowa State University Associated General Contractor's, or ISU AGC, donations during the winter season, the college sophomore has two standard questions he asks local families.
"You ask them not only what they need, but what they want," he says.
This year, ISU AGC paired with Des Moines Public Schools to find two families to which the group could donate gifts. Combining organizational funds with voluntary donations collected from members, AGC members were able to raise nearly $1300 for the donations.
"I didn't even have to ask for 'needs,' because they gave them to me as 'wants'," Pals, who is the organization's Engineering Student Council representative, said of both families.
Boots, coats, jackets … Pals listed off the 'wants' of the children to which he spoke.
"'I want snow boots because I'm walking in tennis shoes right now in the snow,'" Pals recalled the request of one child.
On the second Saturday of this month, AGC members delivered the wrapped gifts in person to both families.
"Everything that we gave them are things that we take for granted every single day," he said. "It's good to give to those that are less fortunate than us."
---
ISU AGC is a student organization of the department of civil, construction and environmental engineering (ISU CCEE) and is advised by CCEE Senior Lecturer Larry Cormicle. Learn more about getting involved with groups like ISU AGC by visiting our website, www.ccee.iastate.edu. Follow us on Facebook, Twitter, and LinkedIn (Iowa State University Civil, Construction and Environmental Engineering and ISUConE) for more stories like this one.