More than 90 graduates were recognized during the department of civil, construction and environmental engineering's (CCEE) Fall 2016 Pre-commencement Celebration.
The celebration, held on Saturday morning at the Iowa State Center Scheman Building, commended the success of the fall class of 2016. Both civil and construction engineering graduates were honored during the event. Each student present spoke about his or her Iowa State University (ISU) experience, shared memories and thanked faculty, family members, and friends for support.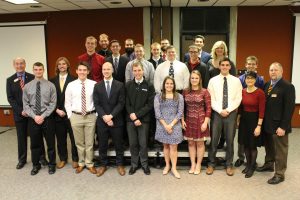 Each semester, two students who bring the most number of family members to the pre-commencement events are recognized with the Family Enthusiasm Award. One civil engineering graduate and one construction engineering graduate are chosen as winners. This year, construction engineering graduate Mackenzie "Mack" Alberts and civil engineering graduate Rebecca Dailey both received the award. Alberts brought 11 members of her family to the event. Dailey brought nine family members to the pre-commencement celebration.
In all, the CCEE department had 63 civil engineering graduates and 28 construction engineering graduates. Civil engineering graduate Catherine Krezowski was named the College of Engineering Student Marshal. Construction engineering graduate Scott Miller was named an outstanding senior by the college.
---
Photos of both pre-commencement celebrations are available on our Fall 2016 CCEE Pre-commencement Celebration Facebook album. Follow us on Facebook, Twitter, and LinkedIn (Iowa State University Civil, Construction and Environmental Engineering and ISUConE) for more event coverage.