Iowa State University engineers earn grant for innovative research of accelerated bridge construction (ABC)
For the second year, Iowa State University's Bridge Engineering Center has been chosen to be a partner in a United States Department of Transportation (U.S. DOT) Tier I University Transportation Center (UTC) grant. The grant brings $2.1 million to the research efforts of Iowa State University (ISU).
Dr. Brent Phares is the director of the Bridge Engineering Center and a research associate professor at ISU's Department of Civil, Construction and Environmental Engineering. The grant, he says, is a gateway to innovative research, technology transfer, and educational activities.
"It provides an avenue to get the research results out of the universities and into practice very, very quickly," Phares said.
Those results include unveiling new technology related to accelerated bridge construction, or ABC.
"With this acceleration, you're trying to limit that exposure window of the traveling public to the construction activity," Phares explained.
The center will partner with Florida International University to conduct ABC research. That work will impact numerous states through the relationship between the Bridge Engineering Center and various departments of transportation, as well as federal agencies. Iowa's Department of Transportation, or IDOT, is a vital teammate to the center's research.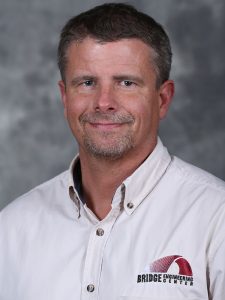 "As a member of the ABC-UTC team, the ISU Bridge Engineering Center led by Dr. Phares has made significant contribution to the bridge engineering community in advancing accelerated bridge construction by conducting much-needed research," said Ahmad Abu-Hawash, chief structural engineer of IDOT's Office of Bridges and Structures. "I believe the award of the second grant by the U.S. DOT is a confirmation of the value provided by the ABC-UTC team. Iowa DOT will continue to support ISU's participation in the ABC-UTC and help in the implementation of the research product."
The ABC-UTC is one of 32 centers within the University Transportation Center network. The Bridge Engineering Center, which is one of five university centers within the ABC consortium, is housed by the Institute for Transportation (InTrans) at ISU.
"The Bridge Engineering Center is an integral part of the Institute for Transportation's success as a state and national leader in the field of transportation engineering research," said Dr. Shauna Hallmark, the director of InTrans. "This newest grant will allow Brent Phares and his team great opportunities to develop technology critical to the safety of those using our nation's roadway infrastructure."
Learn more about the UTC and the Bridge Engineering Center. To keep up with current research at ISU's Department of Civil, Construction and Environmental Engineering, follow ISU CCEE on Facebook, Twitter, and LinkedIn (Iowa State University Civil, Construction and Environmental Engineering and ISUConE). And check us out on-line at www.ccee.iastate.edu.