Three alums receive national honors in environmental engineering industry.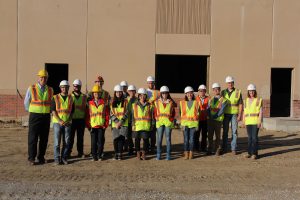 If you walk into FOX Engineering, you probably won't be surprised if you see a lot of cardinal and gold. Nearly three-quarters of the environmental engineering firm's employees have degrees from Iowa State.
FOX Engineering, which is well known for its focus on water and wastewater solutions that create clean water for cities, offers municipalities and industries across the nation creative, well-thought out engineering solutions.
The firm's employees, and alums of Iowa State, were recently recognized for their expertise, and they continually seek out ways to stay connected to students at ISU.
Alumni honored by American Academy of Environmental Engineers and Scientists
Three professional engineers from FOX Engineering have been granted certification in the specialty of Water Supply and Wastewater and inducted into the American Academy of Environmental Engineers and Scientists (AAEES). The Academy's Board of Trustees has conferred the distinction of Board Certified Environmental Engineer (BCEE).
Steve J. Troyer, P.E., BCEE; Lance J. Aldrich, P.E., BCEE; and Laurie A. Twitchell, P.E.,
BCEE join four FOX Engineering colleagues as BCEEs. Of the twelve consultants in Iowa who hold this distinction, seven are active BCEEs from FOX Engineering.
Troyer holds two degrees from Iowa State University – a B.S. in construction engineering and a M.S. in environmental engineering; Aldrich holds a bachelor's in civil engineering from Iowa State and a master's in civil engineering from Texas A&M University; and Twitchell
holds a B.S. in civil engineering from Iowa State and M.S. in environmental engineering from the University of Iowa.

Providing learning opportunities for students
In 2007, Jenny Ruddy started working with FOX as an intern throughout the school year and summers. After she graduated Iowa State with a bachelor's degree in civil engineering with environmental emphasis and a master's degree in civil engineering, she accepted a full-time job with the firm and is now an assistant project manager. She was also offered ownership in the company this year.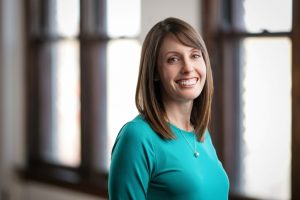 "This is an amazing opportunity to be an owner at such a young age," Ruddy said. "It shows me that there are opportunities to work your way up, but you must be willing to work hard."
Ruddy says she works on a combination of projects, since it is a smaller firm, and her position also involves industrial work.
She's currently responsible for design and construction administration for the Phase II North Liberty Membrane Bioreactor (MBR) expansion and dewatering facilities, and has previously done the process design for the new 15 MGD Ames Water Treatment Plant and a new 2.52 MGD lime softening water treatment facility.
Ruddy stays connected to her alma mater, knowing the impact Iowa State has had at FOX. She and Aldrich recently gave a tour of the Ames water treatment plant construction site to the Water Environment Federation ISU Student Chapter, which includes graduate and undergraduate students.
Sharing real examples of the work that's done at the firm can inspire students and may even lead to potential employees.
"We're always looking to hire, but it must be the right person – someone who is motivated, an intuitive problem-solver, and fits our company culture and goals," Ruddy said. "We look for academic excellence, a strong work ethic, and attention to detail."
Having the drive to work is important but so are social skills.
"Our experience is the foundation of our work, and our reputation is based on the lasting relationships we build with our satisfied clients," Ruddy said.