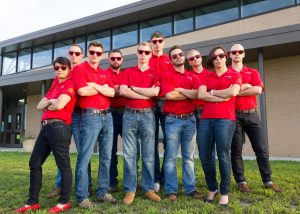 THE TEAM: Mid-September in a Cyclone Energy practice session. Ten students listen as their peers, one by one, run through a presentation for an ELECTRI/International NECA Green Energy Challenge (GEC) proposal. One member, Regan, makes edits to the PowerPoint. The group throws comments up rapid-fire style. There is joking, but there is also an edge in the room. This is a two-time GEC championship team. They aim for a three-peat.
Early October. The team is standing on a stage in Boston. Each member's job? Present a 50-page energy upgrade proposal for Ames' Edwards Elementary School. And bring home a third consecutive first place finish for Iowa State University (ISU). No pressure …
THE LEADERS: Caleb Bonderer is a senior in construction engineering. This year, he's the president of the ISU National Electrical Contractors Association (ISU NECA). His first experience of Cyclone Energy came during a 15-minute class consultation with Department of Civil, Construction and Environmental Engineering (CCEE) Senior Lecturer Beth Hartmann.
"Forty-five minutes later, I was walking out the door and I was signed up for Green Energy Challenge," Bonderer says, repressing a small laugh. "I didn't really know what had happened, but she had recruited me to be a part of the team."
Through the immense work of the GEC proposal submission, poster and oral presentations (read more here), Bonderer says Hartmann drives the team. He admits that working for her is "really is like working for your mom, which is kind of fun."
The ISU NECA president knows how his advisors and his team click. He's been a member of Cyclone Energy for the last two years. Since the team swept their third consecutive first-place finish this October, the road to a four-peat will be tricky.
"I think they definitely have a target on their back," Bonderer says of Cyclone Energy. "There's no doubt about it."
But this is the team that doesn't quit. Bonderer foresees Cyclone Energy trying new and exciting competitions. He even wants to start prepping now for GEC's 2017 national competition in Seattle.
"The moment we can, we start," Bonderer says. "And we try to hit hard."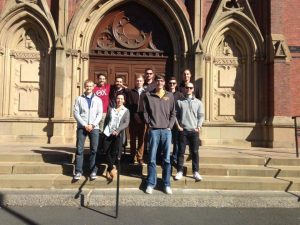 THE GUIDANCE: Beth Hartmann's team calls her 'Momma Bear.' Meeting Hartmann, you understand the nickname. Words like 'amazing,' 'hilarious,' and a 'handful' are all affectionately used to describe Hartmann by Cyclone Energy members. She will challenge them to succeed. That's not just because Hartmann has created an independent study out of the tough work her students do for GEC, but also because she knows the significance of that work.
"It is about how to be successful in our industry, how to communicate with our industry partners and people that are giving us advice," Hartmann emphasizes.
The two faculty advisors to the group, Hartmann and CCEE Senior Lecturer Jenny Baker, knew the 2016 GEC proposal prompt would be exciting. Each proposal needed to design an energy update for a community school. The team picked Edwards Elementary, and unique challenges cropped up.
"How do we show and recommend improvements on this building that's only a couple years old?" Baker remembers thinking shortly after the decision to use the newly-constructed school was made.
Baker further explained that members did an extensive audit of the facility. They suggested LED lighting, shading for glare control, and further lighting control options.
"You had to look, and you had to really think," Baker recalled of the task.
In the months leading up to competitions, Cyclone Energy calls on the state chapter of NECA and its contractors (some of which are ISU alumni) for advice. Feedback for the proposal, Q&A sessions during the final competition preps … the advising is crucial.
"In the university setting, you learn a lot of stuff from books," Hartmann explains. "You need people with industry experience to help make that connection of, 'Here's what I learned in the book, and here's how I'm going to apply it in our industry.'"
When the 2016 GEC rolled around, the work paid off.
"It is all the things that we hope to teach them in our program," Hartmann says of the challenge.
THE PAST: The ISU student chapter of NECA was first established in 1998. 2009 ushered in the first GEC, with ISU competing. Alumnus Matt Jahnke (BSConE2010) was a member of the first team.
"It really takes a roll-up-your-sleeves and get-to-work attitude," Jahnke remembers.
By 2010, Hartmann had arrived at ISU and was advising the team. That team, says Jahnke, has become a powerhouse.
"I see them continuing to excel," Jahnke replied, when asked about where the team can go from its latest win. As for tackling each proposal?
"This problem is exactly what design professional have to make on a daily basis," Jahnke asserts.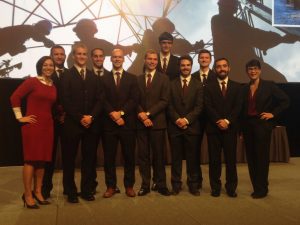 THE FUTURE: What is next? Bonderer says the competition is tightening.
"They were looking for blood," he admits when asked about fellow competitors.
But he also knows Cyclone Energy is far from losing steam. His enthusiasm aligns with the goals of his advisors. Both see potential to strengthen Cyclone Energy's competitive streak.
So where does the team go? Baker has a simple answer: "A four-peat!"
Hartmann echoes the sentiment.
"I would tie it back to the learning," she points out. "What didn't we quite hit the mark on this semester that we can improve on next semester? I think that's actually the key to our success."
Above all, the team has a work ethic that is unrivaled and plenty of energy to spare.
"All the hard work our team puts in is why we're successful," Baker says. "We just put in the hours and the blood, sweat, and tears in some cases. That does the trick."
---
Thoughts from Cyclone Energy
Team members were asked to submit their thoughts for one of two prompts. Below are their answers, with prompts in red.
After finding out about our team's third consecutive Green Energy Challenge win, my reaction could be described as …
"'Completeness.' After being a part of GEC for three years and finally winning first place myself, the experience became real – like seeing something from a postcard in real life."-Caleb Borderer
"This is probably THE proudest moment in my college career! All of our time and hard work finally paid off!"-Scott Miller
"'Awesome!' I'm really glad we found a way to pull it off. After the long hours of the team putting in hard work, it finally paid off, and we couldn't be more excited!"-Shay Hudachek
"When I looked around the table and saw the expressions on my teammates' faces, I didn't know what to do, besides look down and smile. Cyclone Energy continues to achieve unprecedented levels of success because of the hard work and modest mentality of its senior members; thanks for the lessons and experiences, seniors."-Jack Finn
"A mix of relief and reward. After the countless hours that went into the proposal alone, but then practicing close to 10 hours a week, whether it was as a group or individual, the effort was worth it. The Green Energy Challenge is not just a competition to be recognized for research or writing skills, [but] rather a chance to show how our future industry members can implement new change."-Regan Smiley
Being a part of an ISU National Electrical Contractors Association championship team has taught me …
"I was a member of Cyclone Energy for four years, four competitions, and three trips to the national convention. The experience, for me, was transforming. I found my confidence, my voice, and my people. Being a part of NECA and Cyclone Energy is something I will always cherish." -Maggie Holt
"Being a part of ISU NECA has showed me that we are life-long learners. Everyone feels like they know it all, that no matter what happens they have the knowledge for anything that life throws at them. A competition like Green Energy Challenge not only shows you exactly what you need to improve on, but surrounds you with people who are willing to teach you any of your unknowns."-Dylan Busby
"I've gained a ton of technical knowledge in the electrical topics of construction, as well as more confidence in speaking with employers in the industry. On top of this, I found a greater appreciation for the amount of time and effort that goes into making such a successful proposal and presentation."-Noah Reddig
"Being a part of the Cyclone Energy team has taught me many of the necessary skills needed to be in the construction industry, but the most important lesson I learned was the value in working in teams and how to communicate effectively with the group to become successful."-Tristen Girolamo
"Being a part of ISU National Electrical Contractors Association championship team has taught me a lot about the industry and how to develop an outstanding professional proposal. Working among so many talented and intelligent people motivates me every day to become better to help the team achieve its goals as well as succeed in the competition."-Heli Felix-Nascimento
---
Support CCEE students and faculty by visiting foundation.iastate.edu/ccee. Continue to stay connected to our student organizations, alumni and research by following us on Facebook, Twitter, and LinkedIn (Iowa State University Department of Civil, Construction and Environmental Engineering and ISUConE). And check out our website, ccee.iastate.edu.