During the months of July through September 2016, Iowa State University's Department of Electrical and Computer Engineering (ECpE) received many external research awards from the Department of Energy (DOE), the National Science Foundation (NSF) and other groups.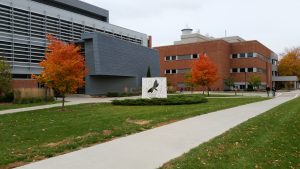 Major grants from the DOE include an award of $1,162,477 for a project entitled "Autonomous Tools for Attack Surface Reduction," with Interim Department Chair and Mehl Professor Manimaran Govindarasu as Principal Investigator (PI) and Nicholas Professor Venkataramana Ajjarapu and University Professor Doug Jacobson as Co-Principal Investigators (Co-PI). The total anticipated amount of the award is $2,981,103. The DOE also awarded $1,318,903 for a project called "Novel Light Extraction and Utilization, Organic LED (OLED) Core Technology Research: Enhanced Light Extraction from Low Cost White OLEDs (WOLEDs) Fabricated on Novel Patterned Substrates," with Senior Scientist Ruth Shinar as PI and Senior Scientist Rana Biswas and Professor Joseph Shinar as Co-PIs.
A variety of projects received grants from the NSF, one highlight being $4,054,476 for the project "WI-ECSEL Scholarship Program (Women in Electrical, Computer, and Software Engineering as Leaders)," with Associate Professor Joseph Zambreno as PI and Jacobson, Assistant Professor Phillip Harrison Jones, Professor Lisa Larson, Senior Lecturer Mani Mina, Dean of Engineering Sarah Rajala, Assistant Professor Sarah Rodriguez, University Professor Diane Rover and University Professor Mack Shelley as Co-PIs.
For more information on ECpE grants received during the months of July through September, visit this link: http://www.ece.iastate.edu/external-research-awards-july-september-2016/.