If you're planning to be a transportation engineer, you had better be ready to meet the challenges of changing infrastructure, growing populations and evolving technologies.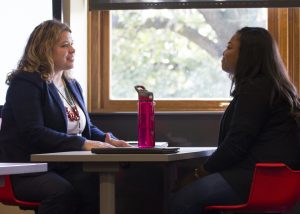 "There's lots of things happening, and all of those things have to be a part of how we tackle transportation," JoNette Kuhnau [BSCE'2000] explained.
Kuhnau is an alumna of Iowa State University (ISU). This past weekend, she served as a panelist for the 2016 Institute of Transportation Engineers (ITE) Midwest Student Leadership Summit. Kuhnau, who is a 2015 recipient of Engineering News-Record's "Top 20 under 40" recognition and a professional traffic operations engineer at Kimley–Horn and Associates, Inc., has been working to get students involved in STEM (science, technology, engineering, and math) fields. She hopes events—like the ITE Summit—will encourage young engineers to participate in professional opportunities early.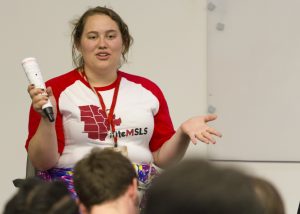 "We really need good, bright leaders coming out of civil engineering programs if we're going to solve some of the issues that are in front of us," Kuhnau said.
Bright leaders include students like Trevor Kirsch, this year's summit volunteer chair. Kirsch, who is working on his master's degree in civil engineering, is a member of ISU's Transportation Student Association (TSA). This was the first student summit to be hosted in the Midwest region, and Kirsch had a specific goal for his role.
"My initial involvement was sparked by the challenge to provide something great to students from a variety of schools," Kirsch said. "It is important for students to attend an event like this to grow professionally and make lasting connections."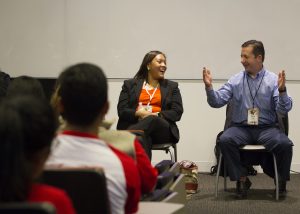 The summit, hosted by ISU's TSA and sponsored in part by ISU's Institute for Transportation (InTrans), attracted more than 80 students representing the Great Lakes and Midwestern ITE Districts. During the three-day event, engineering professionals critiqued resumes, conducted mock interviews, and explored industry trends with students. Kuhnau, who spoke at the Career Leadership Advice Panel, says young engineers have to be ready to adapt. She encouraged students to find mentors, attend career fairs, pursue internships, and get actively involved at ISU.
"I see so many opportunities for really bright students who can, both in the classroom and outside of the classroom, work on their communication skills and work on leadership," Kuhnau said.
Summit events took place Sept. 16-18 on ISU's campus. ISU Department of Civil, Construction and Environmental Engineering's (CCEE) master's student Ellen Nightingale served as summit chair. Summit advisors included TSA Advisors Peter Savolainen (assoc. professor), Jing Dong (asst. professor), and Anuj Sharma (assoc. professor). Find a full list of summit events, workshops and career panels here, and check out photos from the event by visiting ISU CCEE's Facebook album.
Want to know about future engineering opportunities? Keep up-to-date on departmental Facebook, Twitter and LinkedIn (Iowa State University Civil, Construction and Environmental Engineering and ISUConE). And make sure to check out our website, ccee.iastate.edu.