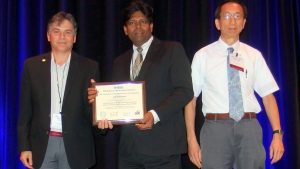 Each year, the Institute of Electrical and Electronics Engineers (IEEE) recognizes the best paper on IEEE Transactions on Automation Science and Engineering. This year Iowa State University's Electrical and Computer Engineering Professor Ratnesh Kumar was honored with receiving this award.
Kumar was recognized for his paper "Fault Detection of Discrete-Time Stochastic Systems Subject to Temporal Logic Correctness Requirements." This was an extension of research done by former student Jun Chen. Kumar's research in cyber physical systems (CPS) drove his knowledge on the topic of fault detection.
"In contrast to the cyber (software) part, the physical part is subject to constant noise," Kumar said, "which makes the overall model stochastic, and the task of prediction more intricate."
Prior to coming to Iowa State, Kumar earned his undergraduate degree in Electrical Engineering from the Indian Institute of Technology, Kanpur. Following his undergraduate degree Kumar moved on to earn his master's and doctorate's degrees at University of Texas at Austin in Electrical and Computer Engineering. After an 11 year stay at the University of Kentucky, Kumar moved to Iowa State in 2002 and has been here ever since.
Looking to the future, Kumar plans to continue researching CPS with huge partners like Honeywell, Adobe and Rockwell Collins. He hopes to expand the scope of sensors from its current, mainly agricultural, application to the medical field with the help of other ISU faculty members and students.