"It is exciting, it is exhilarating!"
Beth Hartmann uses those words to describe the American Society of Civil Engineers' (ASCE) ExCEEd Teaching Workshop.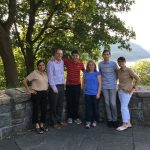 Last month, the Iowa State University (ISU) Department of Civil, Construction and Environmental Engineering (CCEE) senior lecturer served as a faculty mentor at the workshop, held at the United State Military Academy at West Point. There, she worked with faculty from across the world.
"It's rewarding to help other people improve their teaching, but also there's a selfish reason," Hartmann said, explaining why she gets excited about ExCEEd.
She gets as much out of mentoring as her team gets from her leadership.
"I always learn something from the participants," Hartmann said. "So I may see them do something, and I'm like, 'Oh, wow, that would be really cool for me to do!"
Hartmann explained the workshop's schedule: six days of intense classes with immediate feedback.
"This workshop really starts from the very basics to get you ready to get on the podium and deliver a great course; not a good course, but a great course," Hartmann said.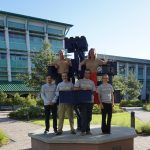 Faculty members of ASCE can apply for the chance to take part in ExCEEd Teaching Workshops. Hartmann started out as an ExCEEd Teaching Workshop participant in 2011. She continued to work with participants as an assistant mentor before being chosen to lead as a faculty mentor this year.
Hartmann isn't the only ISU CCEE faculty to attend the in-depth workshops. This summer, Assistant Professor Kristen Cetin also attended an ExCEEd Teaching Workshop. This was Cetin's first ExCEEd experience.
"We're professors," Cetin said. "It's important that we be able to teach, that students learn and that they get something out of the classes we teach."
Cetin traveled to Florida Gulf Coast University in June for the workshop. There she taught three different classes and picked up different teaching techniques. She says the lessons of ExCEEd can work hand-in-hand with research as well.
"There was some portion of it where I tried to bring in practical experience that I had from either working or doing research … to try and help the students really see why it's important," Cetin said.
Keep up on faculty teaching on our website, ccee.iastate.edu, and stay up-to-date by following our Facebook, Twitter and LinkedIn.