Chris Levandowski knows what makes a team work.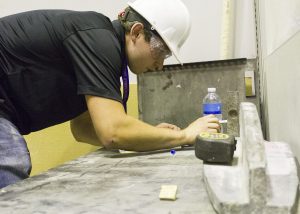 "The most important things in developing a successful beam and team are dedication and communication," the structural engineering student said.
Last week, Iowa State CCEE students took first place in the First International Interactive Symposium on Ultra High Performance Concrete (UHPC) Student Competition. Levandowski was one member of that team.
"Our team met consistently at each stage of the competition and communicated throughout to make sure everyone was on the same page and could contribute their ideas," Levandowski said. "It was only through the hard work and creativity of the entire team that our successful beam could become a reality."
The symposium chose Iowa State's Department of Civil, Construction and Environmental Engineering (CCEE) to host its student competition, research presentations and structures laboratory tours.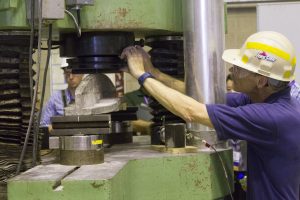 International graduate student Jyothirmai Nandibhatla was also a part of the ISU CCEE team.
"It is a good opportunity for me to showcase my knowledge about the topic on which I am doing my research," Nandibhatla said of the competition. "It is also a stage where we can apply all the principles which we have learnt in our classroom into some practical problem."
Conference sponsor Larry Rowland of Lehigh White Cement attended the competition and tours. He says the symposium and its competition offers students an opportunity.
"They're showing off their skills and they're also testing themselves against each other," Rowland said.
In the competition, eight different schools tested beams made of UHPC. The beams were stress-tested using an actuator to find the amount of load each could take. Rowland explained each team had to take principals like design and performance into account when planning its beam.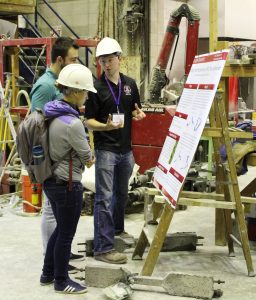 Teams came from as close as Nebraska and Missouri and from as far as China. Levandowski added that the skills he and his teammates used to sweep the competition are ISU CCEE principles.
"Knowledge is one of the most important things for any engineer to have, primarily because engineering is a highly technical profession that has a huge impact on the lives and safety of others," Levandowski said. "Here in the CCEE Department at Iowa State University, I know I'm receiving an education that will not only prepare me with the technical knowledge necessary for engineering, but also provide me with the problem-solving and communication skills necessary for success in my career."
According to ISU Conference Planning & Management's Jennifer Vit, around 250 people attended conference events.
Events at ISU's CCEE Department took place last Tuesday. The full symposium was held Monday through Wednesday of last week. ISU CCEE Department's Sri Sritharan was a lead co-chair of the symposium. Keep up-to-date with top research in engineering by following ISU CCEE on Facebook, Twitter, and LinkedIn. And visit us on the web at ccee.iastate.edu.