Tingting Huang says transportation engineering data analysis can be daunting.
"After we've collected this data, how do we know if the data is good enough, is good for the research or application?" Huang said.
Pranamesh Chakraborty works with massive quantities of data from freeway sensors. He, too, knows that real-world analysis presents challenges.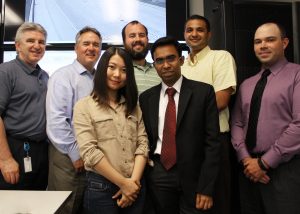 "It's a huge amount of data that we have to tackle," Chakraborty said, describing his work. "We are talking about terabytes of data. We need new technologies, new processes to handle this data."
This May, Huang and Chakraborty were two of three Department of Civil, Construction and Environmental Engineering (CCEE) students recognized by the Intelligent Transportation Systems (ITS) organization for their research in data analysis.
Chakraborty won the ITS America 2016 San Jose Student Essay Competition. His essay, "Big Data Analytics and Its Role in Freeway Incident Detection," detailed his work using data from freeway sensors to develop better ways to detect traffic incidents.
"I'm excited to start my Ph.D. just at the time when big data is coming out as a boom all over the entire U.S.," Chakraborty said of his work. "That will encourage me to work even further and harder for this same topic."
Huang won the ITS Heartland Student Competition for her poster, "Statewide Evaluation of Radar Sensor Using Self-Health Monitoring Techniques." In her research, Huang evaluates freeway sensors and the quality of the data those sensors are providing agencies and engineers. Huang described how the sensors measure traffic volume, speed and type of vehicle.
Huang's goals go beyond the award she just received.
"My research is a basic thing to all other applications," Huang said. "If you want to do the research, you must insure your data is good. You must not use any erred data. So that's the meaning of my research. I need to figure out when these sensors may perform badly, what kind of data may be considered as error data."
Tim Barrette, a CCEE doctoral candidate, won third place in the ITS Heartland Student Competition for his poster, "Data Driven Performance Analysis of Dynamic Message Signs." Barrette is working to find ways of accessing the performance of the electric road signs drivers see with messages telling them to slow down, buckle up or watch for slow traffic.
"Ideally, what you could look at is you could do a rank system," Barrette said, explaining his research, "You'd see, 'OK, this site is sending out a ton of messages and they're all really short. Something's probably wrong with the detection, or something's wrong with the logic that's triggering this [message].'"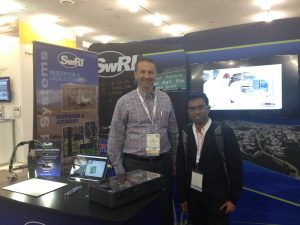 Huang and Chakraborty are working with fellow students at Iowa State University's (ISU) Institute for Transportation (InTrans). CCEE Department Associate Professor Anuj Sharma co-leads the CTRE's Realtime Analytics of Transportation Data Lab (REACTOR) at InTrans and works with all three students. In the lab, Sharma and his team constantly work with the data analysis for which the three students are being recognized.
"Our whole group, they are not only deciding what platform to use in the big data domain," Sharma said, explaining team's work. "They are also maintaining the [high performance] cluster themselves and they are then using analytics, using that cluster so that these questions can be answered relatively easily and relatively quickly."
"This is just a neat place for them to work because this is a hot topic right now," Sharma added.
The ITS America 2016 San Jose Student Essay Competition is sponsored by the Southwest Research Institute. Check out more on the REACTOR Lab and the work of its student researchers, supported in part by the Iowa Department of Transportation. And keep up on the newest research by following ISU's CCEE Department on Facebook, Twitter, and LinkedIn.