Zhao Cheng knows first-hand the serious effects of earthquakes.
"I experienced the 2008 Sichuan earthquake in high school," Cheng said. "So I desire to construct a bridge that can resist an earthquake well."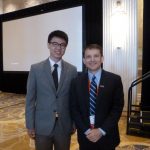 Through his research at Iowa State University, that's what Cheng and fellow graduate assistant Robert Peggar are doing. The two ISU Department of Civil, Construction and Environmental Engineering students recently earned the 2016 James D. Cooper Student Award from the International Bridge Conference (IBC). Their research deals with accelerated bridge construction (ABC) for seismic regions.
Sri Sritharan serves as principal investigator to the students' research.
"Nationally there is a push for building bridges faster, making them last longer," Sritharan said.
Peggar says the practical application of the research is twofold.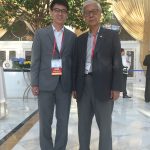 "It can prevent significant damage to bridge girders during small to moderate earthquakes and prevent bridge collapse when major earthquakes occur," Peggar said. "Both of these benefits reduce the long-term costs of bridges, and when major earthquakes occur the connections can potentially save lives."
The paper that Cheng and Peggar submitted, "Integral Connections for Precast-Prestressed Concrete Girders in Seismic Regions," details their ongoing research. As a winner of the James D. Cooper Student Award, Cheng attended the 2016 International Bridge Conference in National Harbor, Maryland.
"This recognition gives me an opportunity to widen my view," Cheng said of the conference. "I got a chance to communicate with bridge engineers around the world [and] learned their thoughts."
IBC Conference Manager Cori Weber says that an executive committee of more than 30 experts reviewed Cheng and Peggar's paper before it was awarded the honor. The guidelines for the paper's topic are picked by the IBC. Back at Iowa State, Sritharan says the award is a testament to the students' research.
"To compete and show we do quality work, it speaks volumes I think for the students, for the program that we have and the university," Sritharan said.
And students agree.
"Research I did at Iowa State already changed my life," Cheng said. "I'm learning not only engineering knowledge but also the ability to solve complex problems through the research experience."
"It is rewarding to see the work that you do recognized as useful and significant," Peggar said.
Cheng and Peggar's project is sponsored by the California Department of Transportation. More details on their project can be found here. Keep up on the newest research by following ISU's CCEE Department on Facebook, Twitter and LinkedIn.