This week, students and faculty of Iowa State University's Civil, Construction and Environmental Engineering Department presented their research to the top minds of their field. And they never had to leave campus.
ISU's CCEE Department hosted the Partnership to Enhance General Aviation Safety, Accessibility and Sustainability's (PEGASAS) Fourth Annual Meeting. More than 100 participants attended the event, with students and faculty presenting research on topics ranging from airport security to new aviation technology and safety techniques.
Ali Arabzadeh was one of those presenting at the meeting. His work details superhydrophobic coating of concrete for airport runways.
"We have a lot of flight cancellations, flight delays because of the presence of ice and snow," Arabzadeh explained. "If we can take care of removing that ice and stuff from the surface of runways, taxiways and airports, we can facilitate the transportation so passengers won't need to wait."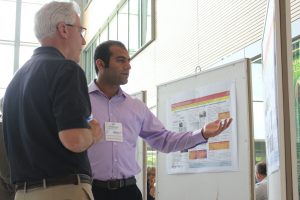 Arabzadeh says that the nano-structural coating his team is proposing for airport runways could help cut down on ice build-up. He explained how it works. The coating provides concrete with a different surface texture than concrete without coating. On regular concrete, water may soak through and has the potential to form ice. The coating allows the majority of the water to run off.
Currently, the team has measured the skid resistance on both coated and non-coated surfaces and different concrete textures. Difference textures, different styles of coating … all are variables.
Dr. Kasthurirangan Gopalakrishnan is a faculty advisor for the team. He says the research is vital to speeding up air travel.
"Any delay in one major airport is going to have serious delays and cancellations across the whole country," Gopalakrishnan said. "If you can cut down on the amount of delay [at major airports], it will have a ripple effect."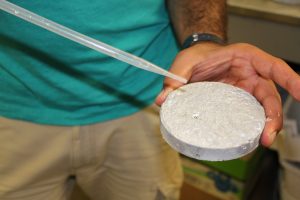 Though the coating needs to be tested further, Gopalakrishnan says preliminary results show the option would be reasonably cost-effective. As for his students? Gopalakrishnan says the PEGASAS meeting gives them an outstanding research opportunity.
"The PEGASAS meeting is attended by people from academia, people from airports, program managers, researchers," Gopalakrishnan said. "They are getting good exposure to people from a wide range of disciplines. And they're going to get feedback on their research."
Arabzadeh says the team is now working to see if they can increase skid resistance while testing their coating on concrete. They are also working on heating the pavement from beneath to melt ice and snow. Ultimately, Arabzadeh hopes his team's research will translate to a savings of time and money for airports and air passengers.
Students on the team include graduate researchers Hesham Abdualla, Alireza Sassani, and Therin Young. The group's principal investigator is Dr. Halil Ceylan, a professor with the CCEE Department. Ceylan is the site director for PEGASAS at ISU and a co-organizer of this week's events.
Find out more about the PEGASAS Conference. And make sure to follow the CCEE Department's Facebook and Twitter feed for the latest in engineering research.