Senior Lecturer Larry Cormicle has a message for the spring 2016 graduating class of the Iowa State University Department of Civil, Construction and Environmental Engineering.
"On graduation Saturday, you are now one of our peers," Cormicle said.
And he has a question.
"You are now one of over 2,600 ConE (construction engineering) alumni…You are part of our ConE alumni group," Cormicle said. "What new relationships will you need beyond graduation?"
Spring graduates and faculty celebrated those relationships and achievements in the weeks before graduation. Before graduation day, construction engineering and civil engineering graduates had a CCEE Department Senior Dinner. Both programs also held a graduation reception on May 7 at the Iowa State Center Scheman Building.
Hearing career plans? That's what Advisor Wendy Robinder says she always wants to know.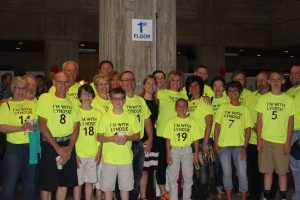 "It's another sense of potential and newness," Robinder said. "You can really see they're ending one chapter and beginning another."
The potential shows. This spring, Iowa State University College of Engineering graduated 36 construction engineering and 94 civil engineering students. At graduation, 94 percent of spring 2016 construction engineering graduates were placed in employment opportunities. That's according to Engineering College Services at Iowa State. That statistic is 79 percent for spring 2016 civil engineering graduates.
Cormicle and Robinder agree that future success depends on fostering relationships.
"This class seemed to have a lot of energy and enthusiasm and comradery," Robinder said.
And they have an offer of continued engagement with the department, too.
"I invite you to continue your relationship with us," Cormicle said, presenting graduates the opportunity to reach out to CCEE Department faculty in the future.
For more information on ways alumni can get involved with the CCEE Department after graduation, contact CCEE Department Outreach Coordinator Jean Dubberke at jeand@iastate.edu