What happens when buildings are put to the test? Professor Matt Rouse created the CCEE Reinforced Concrete Beam Contest to show his students exactly that.
"As engineers, a lot of times we design things but we don't get to see how they fail. Hopefully not, anyway," he said with a smile.
This spring, Rouse's engineering students built a concrete beam. They used skills previously learned in Reinforced Concrete Design I (CE'334). But this was not just any beam. They modeled it on those found in buildings and used hydraulic equipment to test how much load the beam would handle.
"What I really wanted to demonstrate was how ductile reinforced concrete can be, how much it can deform before it actually fails," Rouse said.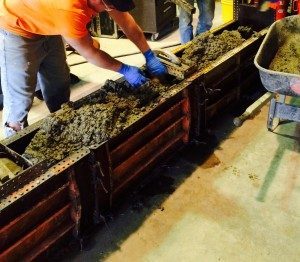 The catch? Rouse didn't just allow undergraduate students from the Department of Civil, Construction and Environmental Engineering to participate in the contest. About 40 graduate students and practicing engineers also were in on the exercise.
"It's a good chance for anybody to see, 'Well, how good am I?" Rouse said. "How well can I really predict how much load this realistic, full-sized beam can support?"
At failing, the beam held almost 50 thousand pounds. Rouse says that practical experience will help students in future jobs.
"That's quite an accomplishment," Rouse said. "If you can say, 'Hey, I think this beam can safely carry 20 tons.' I think that's a good thing."
And students agree. Calvin Halverson is a senior studying civil engineering. He says that the real-world work, coupled with dynamic teaching, makes the concrete beam contest a winning idea.
"As undergraduates, we rarely have a chance to see the actual physical result of our work, calculations and time," Halverson said. "Matt Rouse gave his class an opportunity to do that."
Taking home top bragging rights in each category: John Rhodes for practicing engineers, Seyedbabak Momenzadeh for graduate students, and Molly Schmerbach for undergraduate students.
Check out more details about the contest here.