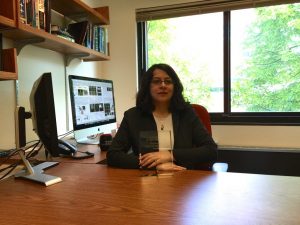 Nicole Hashemi, an assistant professor in mechanical engineering, recently received the University Honors Committee Award for Teaching and Mentoring. The University Honors Program gives two annual awards for outstanding Honors teaching, advising or mentoring. The criterion set by these awards consists of general excellence in teaching of Honors courses, seminars, or any other course taught for Honors credit; or mentoring Honors students through academic advising, advising of Honors projects, and mentoring students in the First-Year Honors/Mentor Research program.
Hashemi was nominated for the award because in addition to being an excellent teacher and researcher, she also serves as a mentor and role model who sets examples for her students. Working with her students from first-year research to graduation, Hashemi is known for encouraging students to reach their potential in research, presentation and publication. She sees every moment as a learning opportunity – even those times when a student makes a simple mistake or breaks expensive equipment, she continues to strive to teach and help her students learn.
In her lab, Hashemi and her students employ microfluidics to design materials with improved properties as well as create 3D cell culture models that represent human organs. "We use a microfluidic approach to create biologically compatible polymer fibers with controlled morphology and size," explains Hashemi.
Seeding neurons on the surface of these flexible fibers or encapsulating them in fibers allows Hashemi to understand the behavior of single neurons after brain injury. Her microfluidic systems have also been used as sensitive sensors for monitoring water quality as well as plant health.