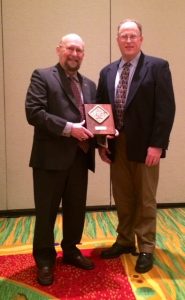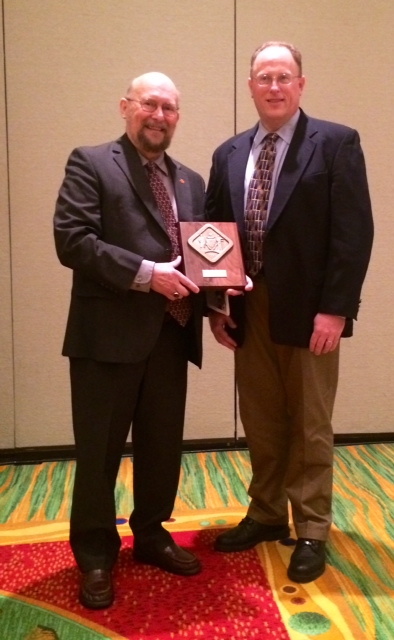 Douglas Gransberg, a professor of Iowa State's Department of Civil, Construction and Environmental Engineering, recently accepted the ASCE Construction Management Award. The award is given to individuals who have made outstanding contributions to the field of construction management as a practitioner, educator or researcher.
Gransberg's research focuses on streamlining the procurement and project delivery for mega-projects involving infrastructure such as highways, ports, railroads, and water supply facilities. His work has been notable on several occasions, including when his research on complex project delivery was cited in a transportation bill President Obama signed in 2012. Gransberg's findings supported justification to immediately implement Construction Manager/General Contractor project delivery, which is a method that allows an owner to engage a construction manager during the design process to provide constructability input. This achievement had also led to Gransberg's appointment by the Secretary of Transportation to the Federal Highway Administration's Every Day Counts implementation team in 2010.
Another of his projects includes assisting in developing the new $5.2 billion Panama Canal Expansion. "The major challenge for this particular project has been getting fellow engineers as well as politicians that approve the funding to accept the changes necessary to complete this highly complex project within the aggressive timeframe," explains Gransberg.
Before coming to Iowa State, Gransberg was a full professor at the University of Oklahoma. In 2011, he was offered the Greenwood Endowed Chair in Construction Engineering. "Iowa State's construction engineering program is the nation's oldest and recognized as the one of the world's best program, so I couldn't refuse," says Gransberg.
Gransberg also holds a permanent adjunct full professor's appointment at the University of Canterbury in New Zealand, where he leads a successful initiative to build up a construction engineering program for the past 10 years. Now, the program has more than 25 graduate students and is currently hiring additional full-time faculty.