Iowa State background leads junior professionals to selection for NASA leadership development program
The Foundations of Influence, Relationships, Success and Teamwork (FIRST) program at NASA takes young professionals with excellent technical skills and helps them to learn about themselves and their workplace to become better leaders. "At NASA, people are incredibly technically competent, but they can often lack the leadership, communication and collaboration skills that will lead to good managers and leaders," says Chris Radke (ME '11) who, along with Cory Simon (CpE '08), completed the FIRST program last year.
The year-long program connects participants with mentors, executives and other influential leaders at NASA such as the chief of the astronaut office, the chief of staff, and the program manager for Project Orion. Program participants are encouraged to improve their leadership techniques through introspection by identifying cognitive biases as well as conflict and communication styles.
"What makes FIRST unique among corporate development programs is the focus on self-awareness and personal growth," says Simon. "The outcome is a better understanding of our own imperfect selves and recognition of how we impact and effectively lead others."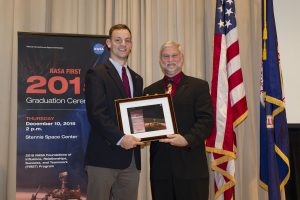 Both Simon and Radke are originally from Iowa and they say deciding to come to Iowa State was no hard choice. Radke, from Dubuque, says the campus was what first drew him to Iowa State. "Finding a university with a great engineering program, tons of motivated students and such a beautiful campus was really hard to beat." He originally didn't have a plan to go to grad school, but after starting research with Dr. Terrence Meyer, Radke started a concurrent B.S.-M.S. in mechanical engineering with Meyer as his advisor.
Upon graduating, Radke received a full-time offer from NASA. After working there for several months, he started talking with his advisor about working on a Ph.D. Radke decided to keep his job as a Propulsion Systems Engineer at NASA's Johnson Space Center and is currently working on his Ph.D. through Iowa State's Engineering-LAS Online Learning program.
Simon, originally from Winterset, says being a Cyclone runs in his family. "My grandparents and family on my mom's side were all Cyclone fans so I grew up with an affinity for Iowa State basketball."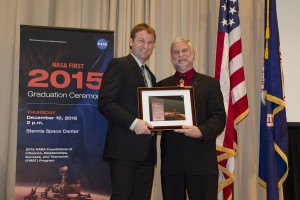 After he was selected as a National Merit Scholar during his junior year of high school, Simon decided on Iowa State because of the National Merit scholarships and the computer engineering program. He completed a co-op with NASA during his junior year at Iowa State and now leads the Wearable Electronics Application and Research (WEAR) Lab at the Johnson Space Center.
Simon and Radke are not the first Iowa State alumni to take part in the FIRST program, in fact Iowa State has consistently had a strong presence. "In the last six years, just under 25 percent of the participants from the Johnson Space Center have been Iowa State grads," says Simon. "That's by far the most of any school, including Purdue, Georgia Tech and all of the Texas schools that are heavily represented at the Johnson Space Center."
It's because of this excellent record that Simon encourages Iowa State students to apply for work with NASA. "NASA is an incredible place to work and more Cyclones than I ever would have expected are leaving their mark on humanity's continued journey into space."