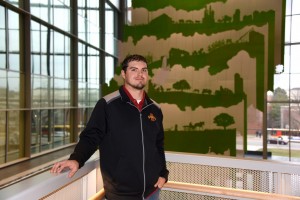 Shane Boeshart, agricultural systems technology (AST), will serve as College of Agriculture and Life sciences student marshal during the fall 2015 commencement ceremony. He will be accompanied by Jenny Macken, academic advisor of AST in the Department of Agricultural and Biosystems Engineering, as he leads his peers into the ceremony held Dec. 19.
The Clear Lake, Iowa native is a nontraditional student who opted to defer his acceptance to college and instead worked many trades including welding agricultural hydraulic cylinders and gas pipelines across the nation before studying at Iowa State University. He served as a peer mentor for the department, and was actively involved as a member of Phi Theta Kappa, the National Mortar Board, the National Society of Leadership and Success and the Golden Key Society. Boeshart also has volunteered for charitable groups such as Habitat for Humanity and Food at First.
Aside from campus and community activities, Boeshart completed internships as a warehouse assistant with Champion Seed and a feed mill operations intern with Heartland Cooperative. In these positions, Boeshart says he was able to use his AST coursework to benefit the businesses and gained networking skills in the agricultural sector.
"My grandfather and father were farmers up until the farm crisis of the 1980s. My grandfather retired and my father was running his electrical business at the time, so the family farm was sold. I really wanted to get back into agriculture, and I enjoyed technology and engineering, so after speaking with the AST advisor, I knew that was the program for me," Boeshart said. "My experiences in the working world have more than helped me in college, and I am grateful that I chose this path."
Boeshart is in negotiation for a position in grain facility planning, design and estimating at SMA Design Build in Monticello, Minnesota.