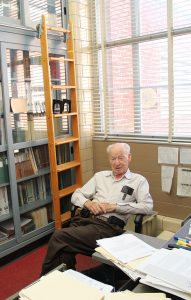 Written by Kerry Gibson, U.S. Department of Energy's Ames Laboratory, Public Affairs
When Karl A. Gschneidner Jr. began work on his Ph.D. at Iowa State University and hired on as an Ames Laboratory graduate researcher in metallurgy, Dwight Eisenhower was serving his first term in the White House. Now, more than six decades later, Gschneidner is formally retiring effective Jan. 5, 2016 after a distinguished career that led him to become internationally recognized as Mr. Rare Earth.
Gschneidner, who turned 85 in November, has dedicated his career to the study of rare-earth metals. He is a Distinguished Professor of Materials Science and Engineering at Iowa State University, a Senior Metallurgist at the Ames Laboratory, and the Chief Scientist of the Critical Materials Institute. He is a member of the National Academy of Engineering and has earned a lengthy list of awards for his research.
A prolific writer, he has published 544 articles in scientific journals and more than 170 chapters in books and conference proceedings. As testament of the quality of his research, his published works have been cited an astonishing 19,013 times – an average of 328 citings per year over his career.
"Our work on the giant magnetocaloric effect of gadolinium-silicon-germanium has been cited more than 2,100 times," Gschneidner said, "so you could say we really hit the jackpot with that one."
After receiving his doctorate from Iowa State in 1957, Gschneidner took a job in the Chemistry and Metallurgy Division of Los Alamos National Laboratory in Los Alamos, New Mexico, and was promoted to section leader in 1961. An opening at Iowa State and Ames Lab gave him the chance to return to Ames in 1963.
"One of my major professors, Adrian Daane, left to head the chemistry department at Kansas State," Gschneidner said. "Frank Spedding, who was my other major professor, hired me to fill the vacancy. I knew what I was getting into and have never regretted making that decision."
Even 60 years later, the powerful draw of scientific discovery keeps him actively engaged in research on rare-earth metals. And although he will be "officially" retiring in January, he will keep the same office he's occupied since 1963 and plans to stay involved in research.
"I plan to stop in most afternoons and I can also work from home," Gschneidner said. "The biggest difference in being 'retired' will be that I don't have to be here for meetings! I can just concentrate on the research."
While there have been breakthroughs over the years – he holds 15 patents – he indicated that recent discoveries that mixing two lanthanides with different shapes (pancake-like and elongated) resulted in new phenomena at low temperatures (if they have the same shape nothing unusual happens). "That's pretty exciting stuff," he observed,especially since these intermetallics have been studied over the past 40 years.
"Finding something new or unexpected is what makes it worthwhile," he said. "It's kind of like hitting a great drive in golf; it keeps you coming back."
"Karl epitomizes what it means to be a scientist," said Ames Laboratory Director Adam Schwartz. "With all his achievements over his lengthy career and being the pre-eminent expert in his field, he still has that natural curiosity that's at the core of scientific discovery. He has been and will continue to be an inspiration to me and those in the scientific community who are fortunate enough to know him."
It was his renown as "Mr. Rare Earth" that led to the establishment of the Critical Materials Institute, a U.S. Department of Energy Innovation Hub located at the Ames Laboratory and focused "on technologies that make better use of materials and eliminate the need for materials that are subject to supply disruptions."
"As the rare earth crisis emerged, Karl was invited to testify before the Space, Science and Technology Committee of the U.S. House of Representatives," explained CMI Director Alex King. "When the Committee asked him what they should do about the emerging supply-chain problems, he told them that the U.S. needed a research institute devoted to this particular problem.  The eventual result was the establishment of the Critical Materials Institute, with Karl as its chief scientist.  At the opening ceremony for the Institute I had the privilege of asking Karl to come forward and cut the ribbon, because without him and his vision, there would have been no CMI."
While the years have slowed him somewhat – he no longer rides his bicycle to work or climbs the bookcase ladder in his office – Gschneidner will also continue to help educate the next generation of material scientists. Several years ago, he used the honorarium from his Acta Materialia Gold Medal to establish the Karl and Melba (his wife of 60 years) Gschneidner Go for Gold Award, given annually to the ISU Materials Science and Engineering student for the "most exciting, breakthrough research."
A key aspect of the award is the two-page, narrative style paper that students must write that describes their research accomplishments, why it's at the cutting edge and why it's important.
"The paper has to be written in good, understandable language and in narrative form," Gschneidner said. "You can do fantastic science, but if you can't explain it you haven't accomplished anything."
Cheers to the man who has accomplished much!