College of Engineering lecturer focuses on better preparing students for the workforce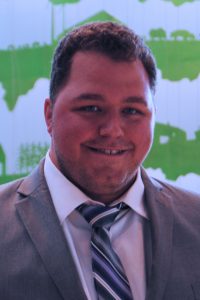 When he began his adventure at Iowa State University, Joe Vanstrom was a student looking for a way to get more hands-on in the engineering field. He found his calling in the industrial technology program and received his bachelor's and master's degrees in the discipline. Now, he has returned to campus as a lecturer in the agricultural and biosystems engineering department.
Before he came to Iowa State, Vanstrom used his talents to develop curriculum to establish a design technology program at Iowa Western Community College. The two-year program focuses on teaching student's fundamental knowledge of product development in all stages of a product's life. Vanstrom developed and taught the program in hopes of preparing students to become effective mechanical designers and industrial designers.
His role as a lecturer in advanced machinery engineering and manufacturing systems at Iowa State has him teaching a 300-level manufacturing course. Vanstrom instructs students on how to run automated machines, develop and maneuver CNC (Computer Numerical Control) programming, and become better at diagnosing problems in the manufacturing industry. He also teaches the senior capstone project, a class that consists of multiple projects the students will work on throughout the last year of the program.
Even with all his responsibility, Vanstrom continues to pursue research in engineering and education. His goal is to provide the resources and tools necessary to prepare engineering and technology students for the workforce and make them more marketable nationally and globally.
Vanstrom also wants to branch out to the college and beyond to make a better eclectic mix for the capstone class. He believes creating diversity in learning can better prepare his students for the workforce. This concept is compounded by the fact that every project can be approached from different angles. He says projects always have a business angle in addition to the engineering perspective and that it is important to understand a project from multiple approaches.
Outside of his work, Vanstrom enjoys attending Iowa State football games and cheering on his Cyclones. He says reengaging with Iowa State has been a great experience, and he loves seeing how thing have changed. Even more so, he is excited to meet new students or in this case, future professionals.