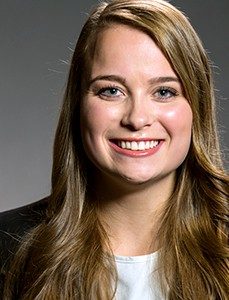 Three ISU students were among 10 college sophomores nationwide awarded fellowships through the Global Food Challenge for Emerging Leaders for Food Security program, created by Land O'Lakes, Inc. Addison Bidwell, agronomy, Leah Ellensohn, agronomy, and Megan Schnell, agricultural and biological systems, will work with agricultural experts and travel to Africa as part of the yearlong program.
Schnell, of Charlottesville, Virginia, is an Agricultural and Biological Systems major in the College of Engineering at Iowa State University. A sophomore advisor for the President's Leadership Class, Schnell is also president of the university's Biological Systems Engineering club. She has gained experience in the field as an undergraduate researcher and is eager to resolve problems that face her generation. These experiences, along with her participation in a college aquaculture project, have fueled her interest in developing innovative and sustainable solutions to global food challenges after she graduates.
The yearlong Global Food Challenge Emerging Leaders for Food Security fellowship provides an opportunity for 10 students at five universities to identify innovative and practical ways to meet the world's need for a 70 percent increase in global food production. These students are matched with professors who will help guide their research. In 2014, students were chosen from partner schools: the University of Minnesota, Purdue University, Iowa State University, Northwestern University, and George Washington University.
The fellowship will provide selected students with the opportunity to engage with other future leaders and advocates for agriculture, and the charge to educate others about the challenges and opportunities facing agriculture in the coming decades.
Each year, students will be selected through a competitive application process from a broad range of education programs that deliver the mix of skills and experience necessary to bring news ideas to feeding the growing global population. Throughout the program, the students will participate in a series of "challenges," assignments designed to spur their thinking about food security issues.
The experience will culminate in an 11-week paid summer internship, beginning in May and will include travel to Africa, Washington, D.C. and key Land O'Lakes, Inc. locations. The students will present their final projects to industry experts and leaders at The Global Food Challenge Summit, hosted each fall at Land O'Lakes, Inc. headquarters in Arden Hills, Minnesota.