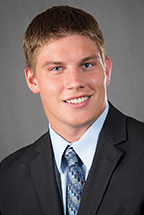 This story was originally published by Dennis Boone with Ingram's Magazine. 
The seeds of entrepreneurship in the Kansas City region have been planted early, as this years class of 20 in Their Twenties demonstrates. These young business owners and executives, hailing from sectors as varied as commercial realty, banking, non-profits, advertising, manufacturing—and even two of the citys professional sports franchises—have embraced the promise of entrepreneurship and are leveraging it for all its worth. Whether its at their own companies or applied on behalf of the organizations that employ them, all have demonstrated that business leadership is in their DNA.
When GENESYS Systems Integrator, a manufacturing consultancy, identified an urgent need to restructure the way proposals were reviewed and developed, it turned to a relatively new hire from Iowa State University. Carl Kirpes stepped up and worked with company leaders to overhaul operations, putting to good use his twin degrees in mechanical engineering and in industrial and manufacturing systems engineering. He was the perfect fit for a company that advises other manufacturers on ways to improve operations. Though still only 25, he's now vice president of operations, and since he signed on, profitability has risen 400 percent, 80 percent of projects are generating positive cash flow, and the company has topped 1 million man-hours without a lost-time incident.