This article was originally released by the Gas Technology Institute.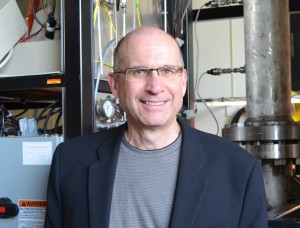 Gas Technology Institute (GTI) announces that Robert C. Brown, Ph.D., a professor at Iowa State University, will be presented with the 2015 Don Klass Award for Excellence in Thermochemical Conversion Science. This award recognizes Brown as a leader whose career has shaped the agenda of thermochemical biomass conversion, made substantial technical contributions, and mentored many young scientists and engineers in the field. He will receive the award on November 3 at the tcbiomass2015 conference in Chicago.
Brown is Anson Marston Distinguished Professor of Engineering and Gary and Donna Hoover Chair in Mechanical Engineering at Iowa State University (ISU). In addition, he holds courtesy academic appointments in the Departments of Chemical and Biological Engineering and Agriculture and Biosystems Engineering.
He is the founding director of the Bioeconomy Institute (BEI) at ISU, a university-wide initiative that coordinates research, educational, and outreach activities related to bio-based products and bioenergy. Brown has pioneered a variety of innovative technologies including syngas fermentation, gasification of bio-oil, production of sugars, bioasphalt, and co-firing fuel from the fast pyrolysis of biomass, and use of biochar as soil amendment and carbon sequestration agent. His research has been funded by the U.S. Department of Energy, the U.S. Department of Agriculture, the National Science Foundation, the Iowa Energy Center, and several companies, most prominently Conoco-Phillips and ExxonMobil.
The author of the textbook Biorenewable Resources: Engineering New Products from Agriculture, Brown helped to establish the first U.S. graduate program offering degrees in biorenewable resources.
Brown has published over 200 refereed papers and is PI or co-PI on over $100 million in cumulative research funding. He is a Fellow of the American Society of Mechanical Engineering, a Member of the American Institute of Chemical Engineers, a Distinguished Iowa Scientist of the Iowa Academy of Science, and the recipient of the David R. Boylan Eminent Faculty Award for Research at ISU in 2002. He received an R&D 100 Award from Research and Development Magazine in 1997 and has been named one of the "Top 100" researchers in bioenergy for five consecutive years (2011-2015) by Biofuels Digest.
Brown holds four degrees: a B.A. in mathematics and a B.S. in physics from the University of Missouri, and an M.S. and Ph.D. in mechanical engineering from Michigan State University.
"I am extremely honored to join the distinguished individuals who have already received this award," said Brown on learning of the award. "As a resident of Iowa, it has been my privilege to work in a state dedicated to advancing agriculture for the production of both food and fuel. Early support from the Iowa Energy Center made possible our thermochemical research program several years before it was widely recognized as an important approach to renewable energy. The Iowa Board of Regents established the Bioeconomy Institute at Iowa State University in 2007 to advance bioenergy in the state as well as the nation. ISU has provided me with the facilities, resources, and time to pursue my interests in bioenergy, which made it possible for me to build the internal and external collaborations upon which my career has been built. And, of course, the financial support we have received from federal agencies and companies was essential to success in our research endeavors."
The Award for Excellence in Thermochemical Conversion Science is a tribute to the notable Dr. Donald L. Klass, who was president and one of the original founders of the Biomass Energy Research Association (BERA). He also managed biomass, natural gas, and petroleum research and educational programs for the Institute of Gas Technology (now GTI) and established the IGT Energy from Biomass and Wastes conferences, held annually for 16 years.
About tcbiomass2015
tcbiomass2015 is the fourth biennial International Conference on Thermochemical Biomass Conversion Science—an event that brings together over 300 experts and visionaries in biomass gasification, pyrolysis, upgrading, and pretreatment to explore progress in the bioeconomy. It takes place 2-5 November, 2015 in downtown Chicago, IL USA.
Registration is open, with discounts for companies sending multiple delegates as well as students. Visit www.gastechnology.org/tcbiomass2015, or contact tcbiomass@gastechnology.org. Follow the conference on Twitter @tcbiomass and LinkedIn to find the latest event details, and use the hashtag #tcbiomass2015.
About Gas Technology Institute (GTI)
GTI is a leading research, development, and training organization serving the global natural gas and energy industry. For nearly 75 years, GTI has solved important energy and environmental challenges by developing technology-based solutions that create value for consumers, industry, and government and by advancing industry knowledge and skills for a safe, sustainable energy future.