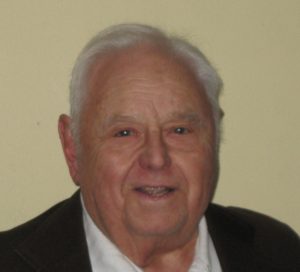 This was written in partnership with the Ames Laboratory.
Long-time MSE professor and Ames Laboratory scientist John (Jack) F. Smith died Sept. 26, 2015.
Smith began a 40-year career at Iowa State University and Ames Laboratory in 1948, where he was a professor of metallurgy and a senior scientist. He served as chairman of ISU's Department of Metallurgy from 1966 through 1970, and a section chief for the Metallurgy and Ceramics department.
With a background in metal behavior, Smith co-developed an ultrasonic method for measuring bolt tension, which improved upon the traditional torque-wrench method of measurement.   The technique had wide ranging applications for the airline industry, power plants, factories and large machines.
Smith retired from Iowa State and the Ames Laboratory in 1988, at which time he became an associate scientist and professor emeritus.
Smith was elected a Fellow of the American Institute of Chemists in 1969 and the American Society of Metals (ASM) in 1984.  Smith served for 24 years as editor of the ASM Journal of Phase Equilibria and Diffusion.  In 2007, Smith was named an International Member of the Polish Academy of Arts and Sciences.  He authored more than 180 technical papers as well as a book on thorium.  Smith received an ISU Alumni Association Faculty Citation in June 1977 and was recognized for "his reputation as an excellent teacher, a highly competent administrator and a prolific and thorough researcher."
Smith was a pilot for the U.S. Navy during World War II and served in the Pacific on the carrier USS Suwannee. In 1995, he published a book about his time on the Suwannee titled Hellcats over the Philippine Deep. Smith was an avid pilot, taking up gliding later in life.
Funeral visitation will be held September 30 from 5:00-7:00 p.m. at Adams & Soderstrum funeral home in Ames.  Smith's funeral will be October 1 at 10:30 a.m. at St. Cecilia Catholic Church in Ames. In lieu of flowers, the family suggests a donation to the John F. Smith Scholarship Fund. Donations can be made by contacting the ISU Department of Materials Science and Engineering.