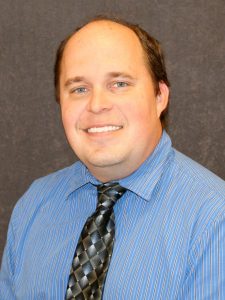 "Materials matter. Everything's made of something."
Materials science and engineering's new associate professor, Peter Collins, knows exactly why his field is important. "So many economic sectors depend upon advanced materials, including the automotive and aerospace industries, as well as applications for cell phones and devices. Materials science is the act of getting down to the nuts and bolts of what something is, why it works and how to make it better."
Collins got his start as an engineer at the University of Missouri-Rolla where he received his undergrad in metallurgical engineering. He then went on to complete his M.S. and Ph.D., both in materials science and engineering, at The Ohio State University.
During his time as a student, he was able to take part in a number of internships. One summer he was in the desert working in a copper smelter that was extracting a bar of gold a week as a byproduct. The next, he worked in Ford's research lab in Michigan.
"I got a chance to cut up Mustang engine blocks that summer. As all of my other friends were in their cubicles doing whatever else, I was breaking apart these sports cars asking how they could be made better and how their performance was limited over time. Since then, I've always just had a great time doing what I've done."
The opportunity to take part in a variety of diverse internships and research during his time at school is something Collins found invaluable and something he wants to be able to give to his students here. "I really enjoy engaging students in small research projects, and I'm planning on maintaining that tradition at ISU."
Before coming to Iowa State as an associate professor and the Al and Julie Renken chair in the MSE department, Collins was an assistant professor at the University of North Texas. During his five years there, he initiated numerous research programs mostly focusing on structural non-ferrous materials. He says many of these programs will be transitioning with him to ISU.
But working with materials doesn't stop in the classroom and laboratory for him. Aside from enjoying his family, Collins likes to spend his free time woodworking. "I've not been able to do it as much over the past couple years, but I often make my own furniture, bookshelves and floating bookshelves," Collins said. "The most unusual piece I've made recently is a tetrahedron. It's a pyramid with a triangular base, and there's no right angle anywhere in it."
This fall, Collins will be continuing his work in metallic materials, additive manufacturing and electron microscopy, as well as teaching a materials processing course. He is also looking forward to working with undergraduates on research projects.