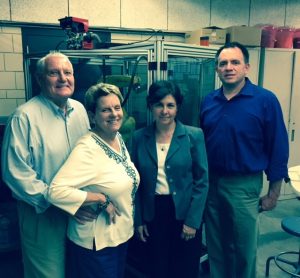 Ames, Iowa – An Iowa State University alumni couple has made a generous gift to establish the C. G. "Turk" and Joyce A. Therkildsen Department Chair in Industrial and Manufacturing Systems Engineering.
An endowed department chair will have a substantial, permanent impact for the Department of Industrial and Manufacturing Systems Engineering. The position honors the holder as it provides an ongoing source of funding to support high-level priorities and emerging opportunities that fit with the chair's strategic plan.
"The timing of this gift could not be more opportune," said Sarah A. Rajala, dean of engineering and the James L. and Katherine S. Melsa Professor in the College of Engineering. "The support and prestige represented by a named chair will help attract an exceptional new leader for the department just at a time when Janis Terpenny, who had been chair, recently left Iowa State for another position. This is an excellent example of the impact alumni can have when they choose to give back in such a generous and lasting way."
Charles George "Turk" Therkildsen graduated with a degree in industrial engineering, and Joyce Arlene McEwen Therkildsen graduated with majors in zoology and physical education. Graduating together from Iowa State in 1960, they have chosen to remain members of the class of 1959. Turk Therkildsen is president and CEO of Industrial Hard Chrome in Geneva, Illinois.
"When we returned to campus a year ago, we were impressed by the quality of the department, especially the hands-on laboratory opportunities, which will vastly shorten the learning curve on that all-important first employment opportunity. We applaud the administrative leadership of Janis, who played a key role in achieving that excellence," said Turk Therkildsen. "We are delighted to make a gift that will ensure the same capable leadership continues in the future."
Said Terpenny, who held the Joseph Walkup Professorship in Industrial and Manufacturing Systems Engineering, "It has been my honor and privilege to work with Turk and Joyce on this transformative gift. It has been wonderful to learn about their time at Iowa State … truly, a love story and testament to what a great education, hard work, and entrepreneurial spirit can do."
Said Frank Peters, who is serving as interim department chair, "An endowed position at this level will support scholarships and fellowships, innovative curriculum, new areas of research, and equipment upgrades – and help hire and retain top-level faculty. This gift will increase the department's ability to further pursue significant work and prepare leaders in our field."
Besides the ability to help attract a high-quality candidate for the chair position, the gift will provide immediate benefit as Peters will begin to use proceeds to support department innovations this year.
The endowed department chair was established with a gift made through the Iowa State University Foundation, a private, nonprofit corporation dedicated to securing and managing gifts and grants that benefit Iowa State University.
Contacts:
Frank Peters, Department of Industrial and Manufacturing Systems Engineering, fpeters@iastate.edu; 515.294.3855
Alex Rausch, Communications, Department of Industrial and Manufacturing Systems Engineering, arausch@iastate.edu; 515.294.1054